Playdates
Make a Date to Play with us!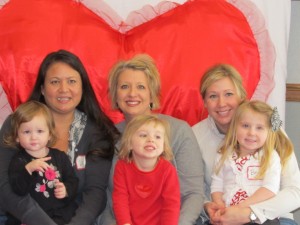 A Playdate is a one-time themed class for parents and kids. You'll get the same fun and learning as in our weekly classes, and you'll take the music and learning home with you. Each playdate typically comes with either a CD or 10-song download card for Play.Kindermusik.com, and often an instrument, craft, prop, or storybook — depending on the theme.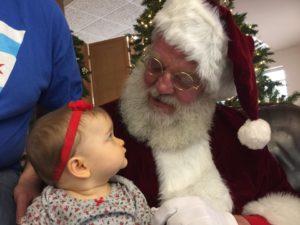 December 9, 2017: ANNUAL SANTA PLAYDATE! 9:00 or 10:30 AM – SPECIAL: $20 for the first child, $5-2nd and FREE for subsequent kiddos! Our Santa is the "real deal!" Enjoy a 60 minute music class of all things festive, like paper plate ice-skating and galloping horses "Over the River and Through the Woods!" Visit with Santa once or twice – as many times as it takes to get comfortable, and take as many pics as you want (Or we'll take a family one for you!); Top it off with a Christmas cookie and juice, and you'll leave in the holiday spirit of love and family! Reserve your spot by Wednesday, December 6th! (Subject to availability – these playdates FILL FAST!) click here to register.
Standard Playdate Pricing: $30 at the door; $20 with advanced registration for first child, $10 for each sibling. Babies in car seats are free. To reserve your spot in the Playdate, please click here to complete the Playdate registration form.
September 19, 2015: HORSIN' AROUND! 9:30 or 10:30 AM – SPECIAL: $5 for existing families and FREE for new families! Changing weather brings a reason to go indoors and play! Come…pretend….Gallop and trop, sit under an apple tree, and sing and dance the hour (45 minutes this time) away! Reserve your spot by Wednesday, September 16! (Click the link above)
October 31, 2015: TRICK OR TREAT! Share some Halloween fun with your little one. Wear your costume and pretend to be all of your favorite characters; fun for the whole family; sing, dance, tumble, play instruments, and enjoy a treat of course! 10:00am only. LIMITED AVAILABILITY.
November 7, 2015: FALL FROLIC Playdate! Over the river and through the woods, to Grandmother's house we go! Take time together as we play in the leaves, embrace the love of family, and relish in making music together.
December 12, 2015: Our most popular Playdate of the year includes a visit by Santa with unlimited time to warm up and pictures, a jingle bell bracelet craft, and, cookies and milk of COURSE! You'll enjoy fun as your family does paper plate ice-skating, Jingle bell playing, and discovers all the secrets hiding in Santa's bag! 9:00-10:00 or 10:30-11:30! These playdates fill up fast!
January: FROSTY Playdate – Thumpity Thump Thump, Thumpity Thump, Thump!….featuring a visit from life-sized Frosty the Snowman!!! A one-bell jingle is the featured instrument!
February:
Love Teas – Love somebody, yes you do! Share a little love in traditional "Playdate style" with your special someone. Songs and activities ooze with affection – you'll leave warm all over, full of love.
Cooking with Music Connections/ Valentine's Day Cookies – 9:30-11 AM – Children 5-7 years old (limited to 8 students) are invited to join in a PlayDate "big kid style" as they make and decorate their own Valentine's Day cookies. Participants will receive a 90-minute child-only session that will include music, cooking, a $10 Kindermusik Play card, kazoo, measuring tools, and a heart shaped cookie cutter. (Please inform of us of any potential food allergies at time of reservation – reservations MUST be received by Thursday, February 7 to allow time for shopping! NOTE: No discounted early rate for this playdate – cost is $30.)
March: Animal Hullabaloo – Meow, roar, moo, squawk, squeak!!! Help your favorite child release their inner animal at our Animal Hullabaloo PlayDate. Featured instrument – maraca shaker. There will also be a visit from a "special guest animal." $20 if you reserve in advance.
April: Stay tuned for our Spring Fling!