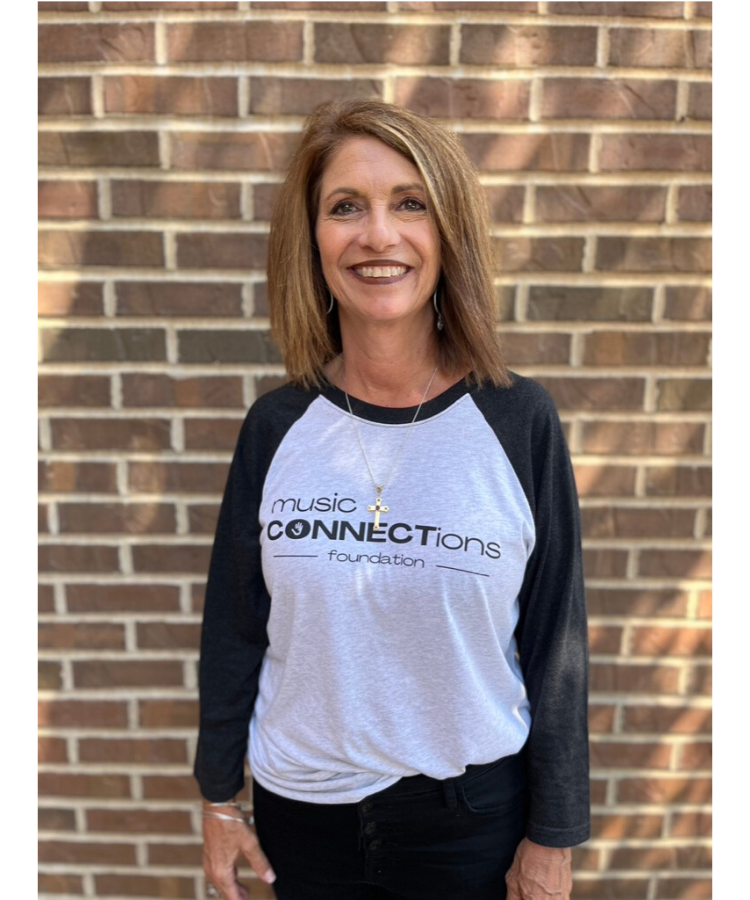 I believe that an investment in children and families is an investment in our future world! Kindermusik has, for 28 years, given me the chance to make such an investment. This journey has been clad with one touching revelation after another – children who took their first steps in Kindermusik, those who spoke their first words, those who are now some of our community's most gifted young adults, and yes, even some who have lived, and died, while with us. Though the journey began while trying to provide the gift of the music through our time, lessons and home ideas, it has come to embody so much more...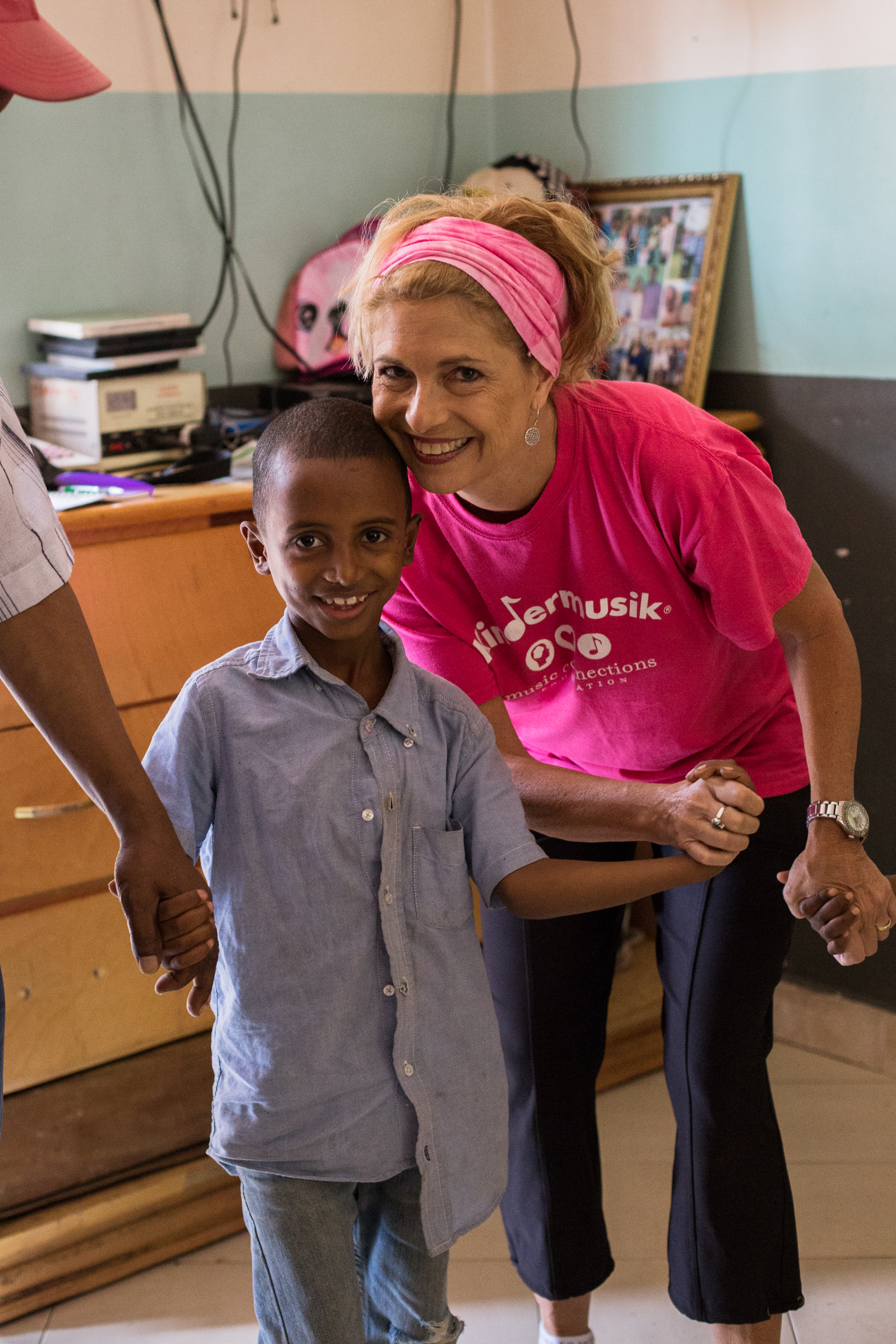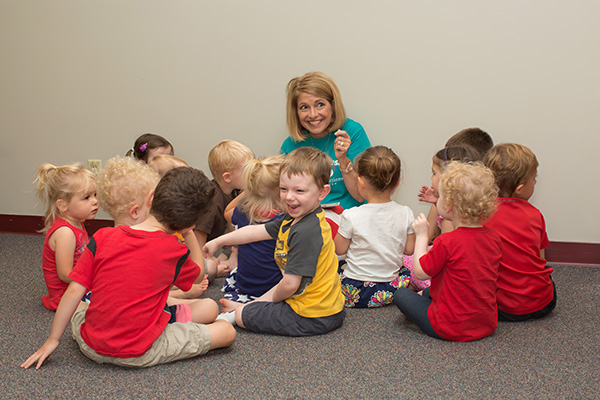 Regardless of the struggles to run a business or to get out the door to class, once I am present, the magic on the floor — my "job" — can best be described as "Abounding love...everyday." I wish for others the chance to experience such a gift in a vocation. I wish for parents the time to be present and play on the floor with their children, I wish for others who are struggling to see, in the eyes of children, nothing but an honest extension of, or calling for, love and Joy. I wish for all to take their loving example seriously, to emulate it, and, in doing so, to leave the world a little better off than they found it. .
More about Katie Henderson
Katie Henderson, Founder and Director of Music Connections Foundation (MCF), has been a licensed, trained Kindermusik educator since 1993. She earned a degree in piano performance and completed coursework in Music Therapy from Illinois State University, and has worked with children in varying musical capacities for over 35 years. In 1993, Wheaton College sought out Katie to teach Kindermusik in their pre-college department of more than 800 children. Finding Kindermusik was an answer to dreams and prayers, as Katie had long known that young children were ready for the joy and learning music offers from a very young age, but that traditional lessons were not the optimal way to do this.
When her husband was transferred to Bloomington in 1994, Katie began Bloomington-Normal's only Kindermusik program in her home with 28 students. Twenty-eight years later, Music Connections is now a Not-For-Profit Foundation with a mission to reach all children and families with the benefits of music from an early age. Music Connections has has a team of 10 teachers and a program administrator, and, in addition to serving hundreds of families each week at its primary studio, MCF regularly serves children and families through its Foundation at such locations as SPICE/Marcfirst, Western Avenue Community Center, Neville House, Boys & Girls Club, the Baby Fold, Heritage of Care Nursing Home and Westminster Village.
Kindermusik International has programs in 72 countries, with over 5000 educators, worldwide. Music Connections has ranked among Kindermusik International's top 20 programs worldwide, having been designated a Maestro Program — Conductor's Circle status — since the program's inception in 2000.
In her spare time, Katie has served as Music Director for the Holiday Spectacular and Prairie Fire Theatre and sits on the Board of Directors for Prairie Fire. She conducts adult education workshops on the importance of music in early childhood learning for local and statewide colleges and associations, and works independently for Kindermusik International, traveling to conduct Training workshops for educators worldwide. Katie lives in Bloomington with her wonderful husband Scott, is mom (and stepmom) to Katie Lynn, Josh, Michael, Benjamin and Grace, and Grandma to seven amazing grandkids.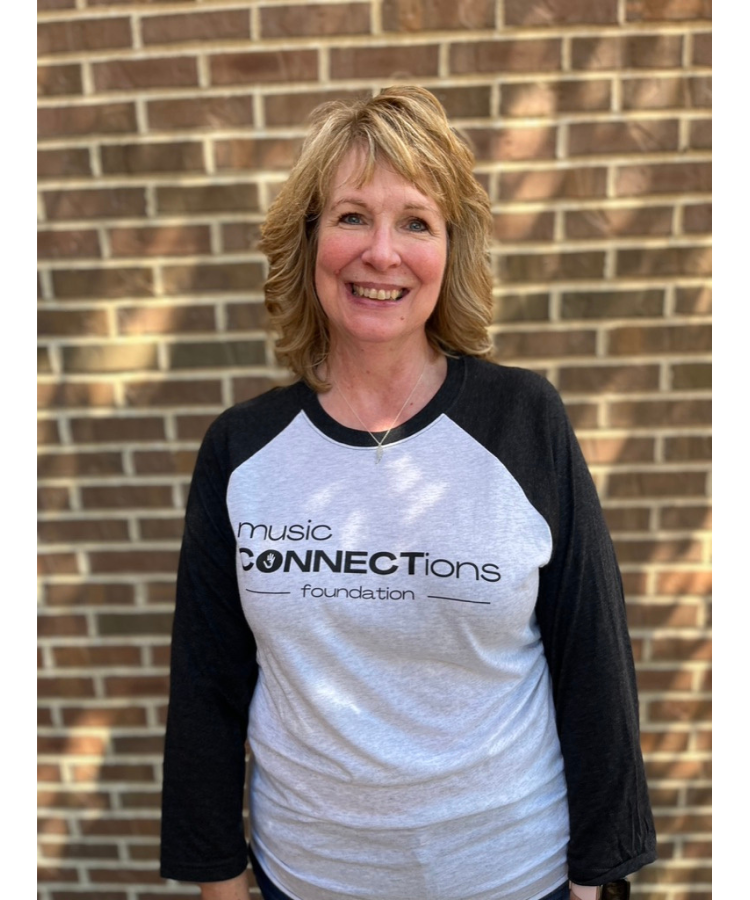 Tawni Martin has been with Music Connections since the Fall of 2008. Tawni has a degree in Elementary / Early Childhood Education and taught first grade for 10 years before staying home with her two daughters. Both her girls (now 29 and 25) were themselves "Kindermusik kids" and are working in musical related fields. Tawni is married and lives in Bloomington with husband, Clay and Cooper the dog!
Tawni is dedicated to handling many "back-office" administrative aspects of Music Connections' business, including scheduling, materials ordering and inventory, marketing and customer relations for Music Connections as well as assisting with costuming for SCMT.  One of Tawni's favorite things about working at Music Connections is her opportunity to assist and work with all of our Kindermusik families.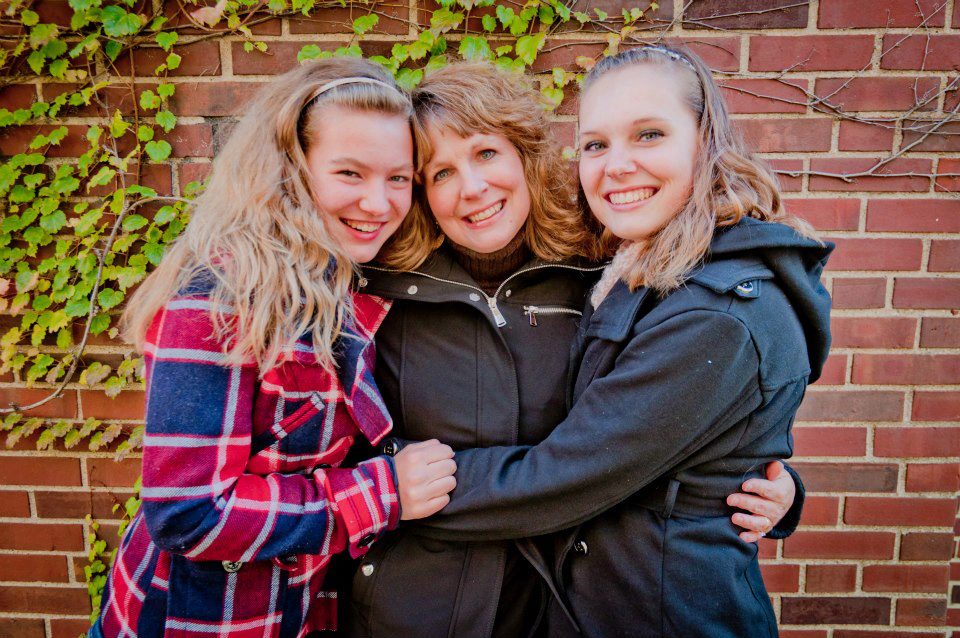 KINDERMUSIK EDUCATOR FOR SPICE AT MARCFIRST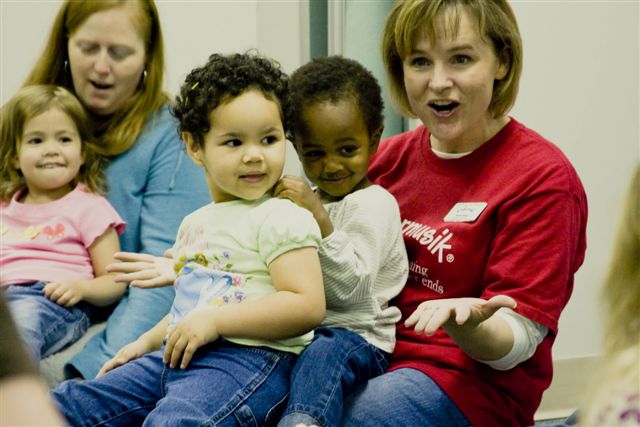 Shelly is a Kindermusik Educator for SPICE classes at MarcFirst for Music Connections Foundation while working in the private speech pathology field. She has a Masters in Speech and Language Pathology and Audiology. She first came to Kindermusik as a parent attending classes with her first child, then 6 months old. She was immediately impressed not only with how much fun the classes were, but with how well so many areas of child development are addressed by the curriculum.
Shelly and her husband, Darvis, have four children ages 20, 18, 15, and 13. They are thrilled with how the Kindermusik program has benefited their children and family as a whole!
Shelly says this of being a busy Kindermusik teacher for S.P.I.C.E (and mom to four kiddos!):
"What I think keeps me going day to day with Kindermusik is simply the joy it brings to children and families as a whole: those recurring small moments of joy, or just the overall feel in a class. This feeds my soul. But the underlying motivation, what makes it all feel deeply worthwhile, is the fact that there is actually a purpose within this joyful experience, that it does so much good! The analogy of putting vegetables in ice cream is so fitting. And Kindermusik fills so many different needs for different people: bonding between child and caregiver, development of the child, parenting support, connection to other caregivers/families, time to slow down and be, etc., I don't believe there is anyone that Kindermusik isn't 'for.'"
KINDERMUSIK EDUCATOR & PIANO TEACHER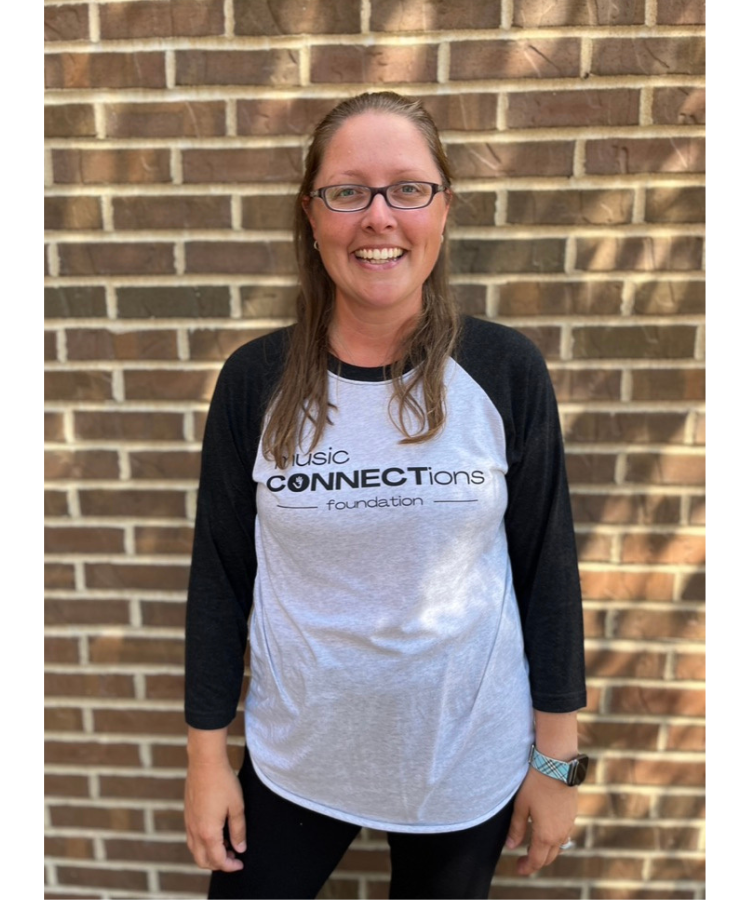 Molly is originally from central Illinois and moved to Bloomington to study International Business and foreign language at Illinois State University. After working six years at Caterpillar Inc., she chose to stay home when her son was born, and she began exploring a new career path in teaching. For the past seven years, she has been a French teacher in the Bloomington-Normal community and began her teaching journey for Music Connections Foundation her first summer with a French-language family-style summer camp.
"I was born into a very musical family and developed a love of music at a young age. When my son was born, I knew that I wanted music to be a big part of his life and was very pleased to find Kindermusik. But Kindermusik was so much more than just an exposure to music. From keeping a steady beat to managing transitions throughout the day, Kindermusik has been beneficial in developing my children musically, emotionally, and socially. As a parent, I am grateful for the community, opportunity, and education that Music Connections has provided my children and me. As a teacher, I look forward to sharing these benefits with other parents and to helping them bond with their children as they explore themselves and the world around them. As a member of the community, I hope to give back by reaching as many families as I can who would benefit from this wonderful program."
Molly lives in Bloomington with her husband, Arturo, and their two kids: Santiago (10) and Milena (7).
KINDERMUSIK EDUCATOR / VOICE TEACHER / STUDIO CONNECT MUSICAL THEATER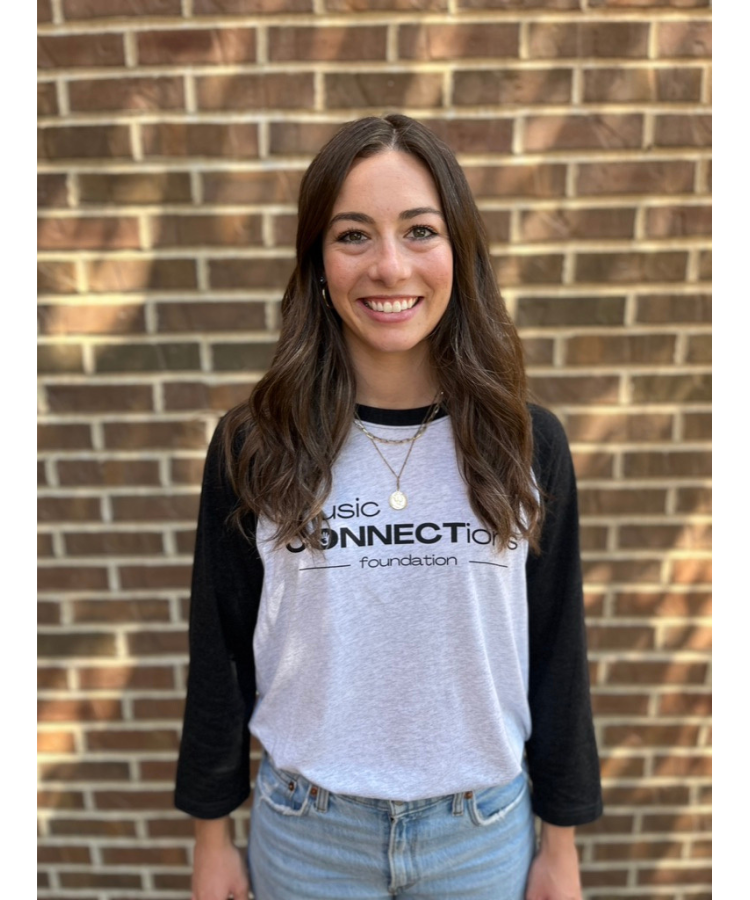 Miss Grace is a licensed Kindermusik Educator who was born and raised in Bloomington, IL. She attended Metcalf and U-High before moving to Phoenix, AZ to pursue a degree in Vocal Performance at Grand Canyon University. While in Phoenix, Grace enjoyed performing Musical Theater, Opera, Church music and Choral music both collegiately and professionally.
Grace returned to her hometown in April of 2020 to work for Music Connections Foundation teaching Kindermusik, voice lessons and Studio Connect Musical Theater. She has worked with Miss Angela Wirsing over the years to develop MCF's choristers and musical theater program.
As a voice teacher, Grace is passionate about helping children find their voice and build their confidence in vocal technique as well as expression and acting. Grace's voice students work on many aspects of vocal technique including pitch matching, breath support & control, posture, expression, and more.
In Studio Connect Musical Theater, Grace seeks to provide opportunities for children to build meaningful relationships and develop confidence in the arts, all while having fun! She is passionate about helping kids develop skills in singing, dancing, acting, directing and so much more!
LICENSED EDUCATOR / BOARD OF DIRECTORS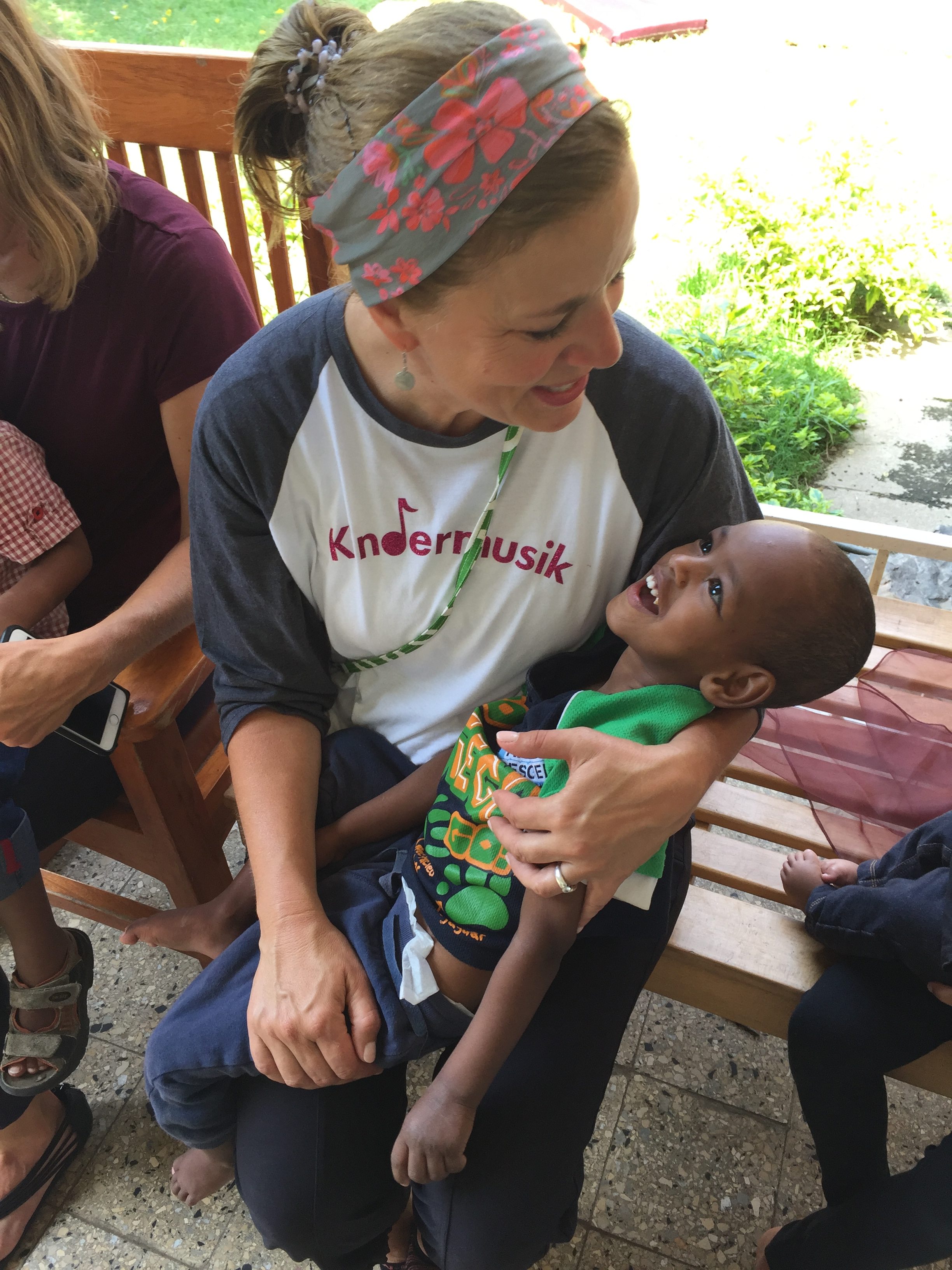 Andrea's lifelong love of music and her then 2 year old son Hayden, landed her in the very first Music Connections class in the basement of Katie's home in 1994. Andrea was a veteran Kindermusik educator of more than 17 years, and currently serves on the Music Connections Board of Directors. Her background is in Exercise Physiology, and Andrea loves the way that Kindermusik addresses optimal physical development in young children. Andrea says this: I taught Kindermusik because I know it is the best early childhood program available to families in our community. Kindermusik is a "little bit of everything" - dance, gymnastics, story hour, art, music, playgroup, support group, social group all wrapped up in well-researched, developmentally appropriate curriculum, and taught by passionate educators who do their best work.
Andrea has served on the writing and editing teams for Kindermusik International's curriculum development department, as Lead Mentor for Music Connections' teaching team, and has spearheaded the MC Foundation's initiative at SPICE for at risk two-year-olds and autistic children. In the summer of 2018, Andrea accompanied Katie and a team of 7 other Kindermusik educators from all over the United States to Ethiopia to bring Kindermusik to the children of ESM Africa, a group of three orphanages, and to help train staff on how to use music to enhance the children's development in a loving and joyful way.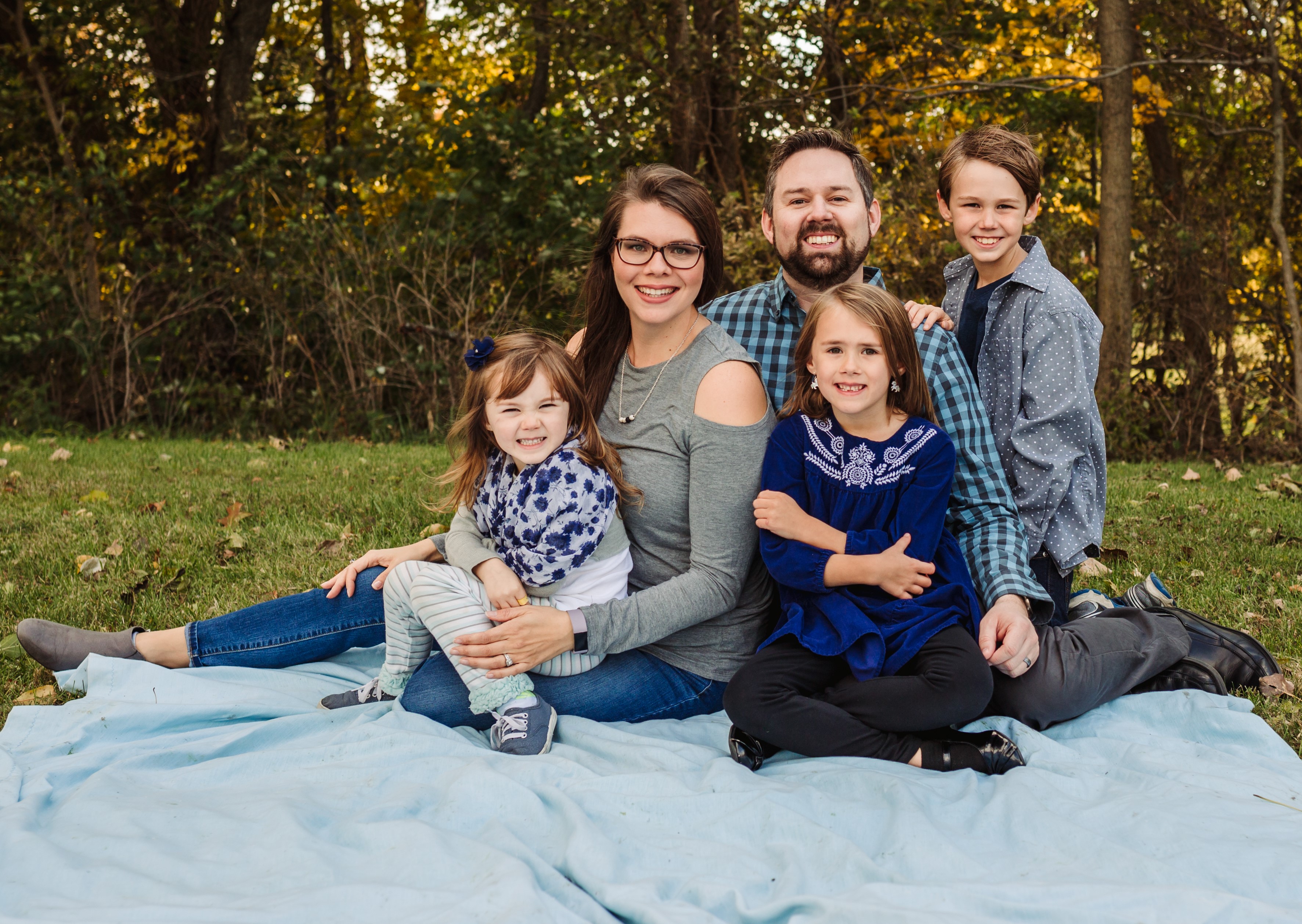 One might say that Victoria found the opportunity to teach Kindermusik, but the real truth is, Kindermusik helped her find herself. Music has always been an integral part of Victoria's life, having two parents who are musicians that fostered her love of performing at an early age. Growing up in Texas, she played the clarinet in several bands and her local symphony orchestra, sang in choirs including the Texas All-State honor choir, and participated in community theatre and opera. After earning a bachelor's degree in music education in 2008, she spent 5 years teaching elementary music and choir in the Texas pubic school system for a Blue Ribbon-Honor Roll campus. When her family relocated to Mackinaw, Illinois in 2013, Victoria spent a few years at home with her young children and volunteering with several nonprofits in the area. Then enters Kindermusik – everything she never knew she was missing! After Victoria licensed as an educator in 2017, the next few years would prove to be instrumental in shaping her as a teacher, mother, and person. She will tell you right away that she "has learned more about child development in the last 3 years than in the whole 30 years prior." Kindermusik is just that LIFE-CHANGING!!! Victoria loves working with young children to help them develop their musical, social, cognitive, and emotional skills while honoring their own unique personalities and needs. When she isn't in the studio, you will find Victoria running her Sam (11), Rachael (8) and Anna (6) children to activities, doing volunteer work, playing bass guitar and ukulele in church, or hosting people for dinner in her home with her husband, Michael. She is the kind of person who can strike-up a lively conversation with a brick wall, but she really prefers people (haha!) and can't wait to build relationships at Music Connections with all of you.

KINDERMUSIK EDUCATOR / VOICE TEACHER / STUDIO CONNECT MUSICAL THEATER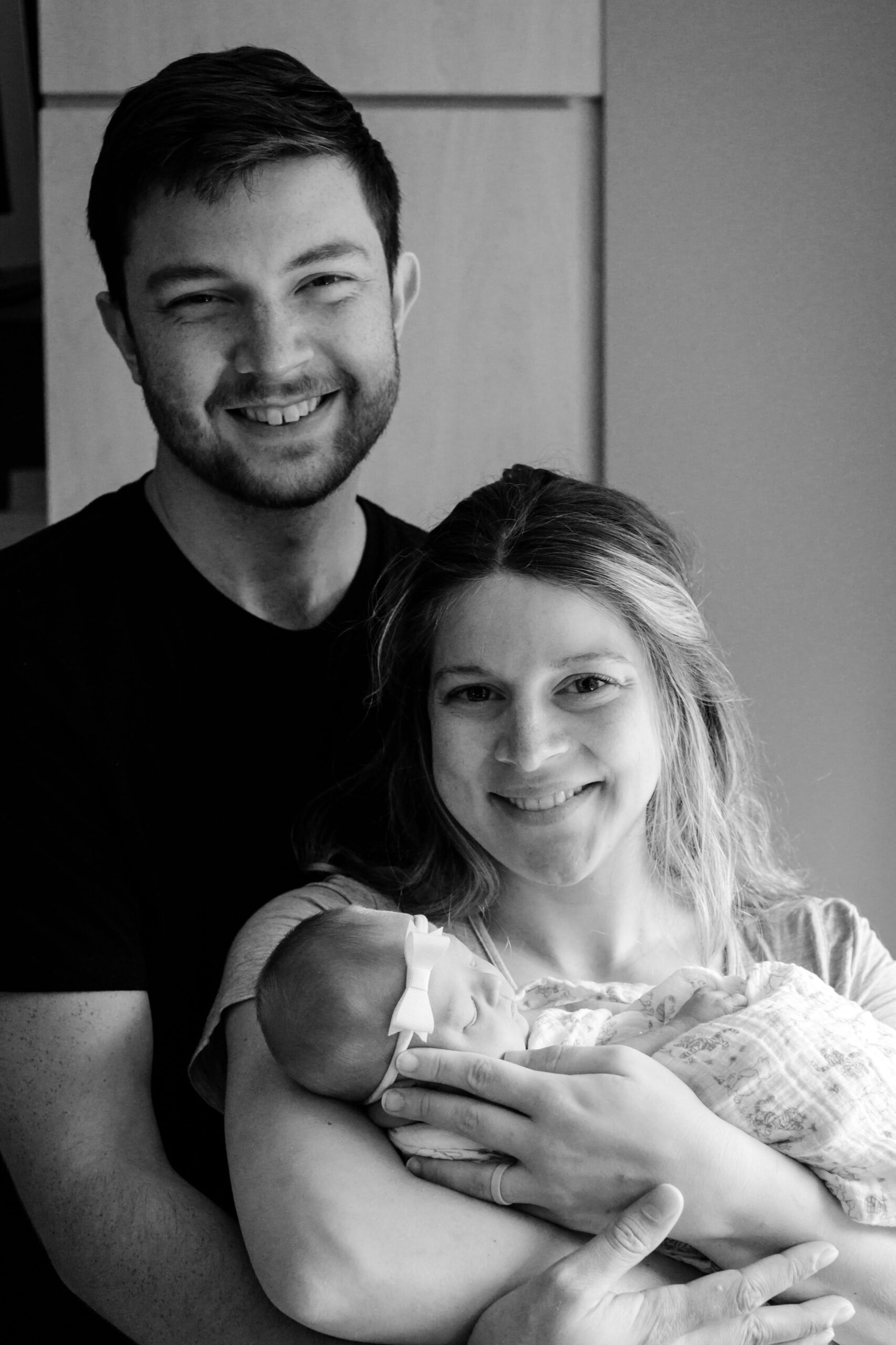 Blake is a local music educator who grew up in central Illinois and moved to Bloomington in 2014 to pursue a degree in vocal music education from Illinois Wesleyan University. While there he participated in numerous operatic and musical theatre productions both collegiate and professional.
Blake first came to Music Connections Foundation through the summer musical theater program, and was quickly taken by the positive atmosphere and musicality of students and staff.
Along with teaching Kindermusik courses, Blake is passionate about helping children connect emotionally to music through studio lessons. He began listening to classical music and opera in high school and was inspired as a performer and hopes to inspire that same love of singing in his students.
Blake became a first-time dad (as of the summer of 2021), and he is excited to bring the tenets of Kindermusik to his new-born daughter Irie and wife Maizee.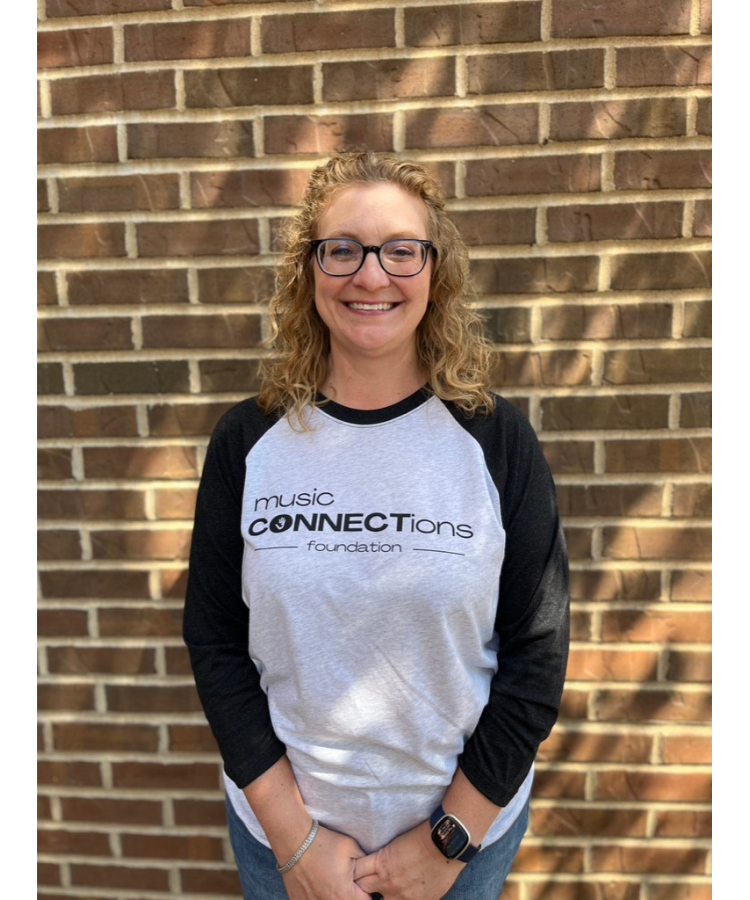 Lisa began her journey with Kindermusik when her first daughter was 4 months old. Julianne is now a Kindermusik Graduate and her sister Kristin is nearing her graduation! Lisa holds a B.A. in Music Education with an emphasis in Music Therapy from Wartburg College. She has worked with children ages 3-21 on the autism spectrum as well as taught music education for preschoolers thru 2nd graders. Why KindermusiK? Lisa says: "When I was pregnant with Julianne, I began talking with other moms in my circle of friends to find out what music options were available for newborns. I was enthusiastically directed to Kindermusik by Music Connections and have fallen in love with the program! Being a music therapist, I have always seen the value of music as a teaching tool for non-musical goals. Kindermusik research supports this by using age appropriate music and activities to expand children's physical, language and social skills. I love that Kindermusik and Music Therapy are so similar in their focus! I hope that by teaching Kindermusik, I can share my passion for music and its tremendous possibilities!" As a Music Therapist, Lisa was the perfect team member to spearhead MCF's foundation intiative "Kindermusik Grandfriends" class for seniors the last couple of years (currently at Westminster Village and Heritage of Care). Lisa resides in Bloomington with her husband, her 11 and 8 year old daughters and 3 shih tzus.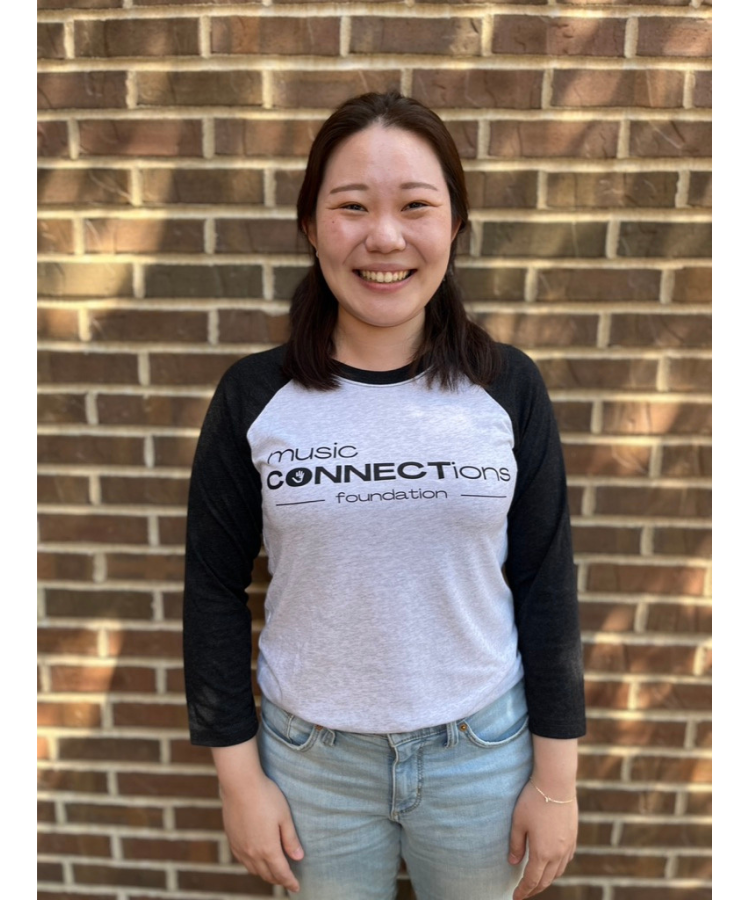 Grace Eom is a pianist who graduated from University of Santo Tomas (Philippines). She was a member of the faculty at Casa San Miguel Center for the Arts in Zambales where she taught piano and group violin. She worked as the center's piano accompanist as well.
Grace does not only play the piano, but is also active in playing the viola. She has been a part of several orchestras in the Philippines, including University of Santo Tomas Symphony Orchestra, Philippine Philharmonic Orchestra and Metropolitan Symphony Orchestra.
She is currently a graduate student taking Collaborative Piano and Viola Performance at Illinois State University.
As she has continued with further studies, she has converted all the knowledge and experience she has gained through the years into teaching the younger generation. For Grace, music isn't just the beautiful sound an instrument makes. It is a process of listening, processing and continuously developing with repetitive activities and exercises. It has been her goal to understand the process of the progress, and she digs deeply into the process to see more potential and possibilities in it. This is her way of understanding music and she wants to pass it down to young, enthusiastic students!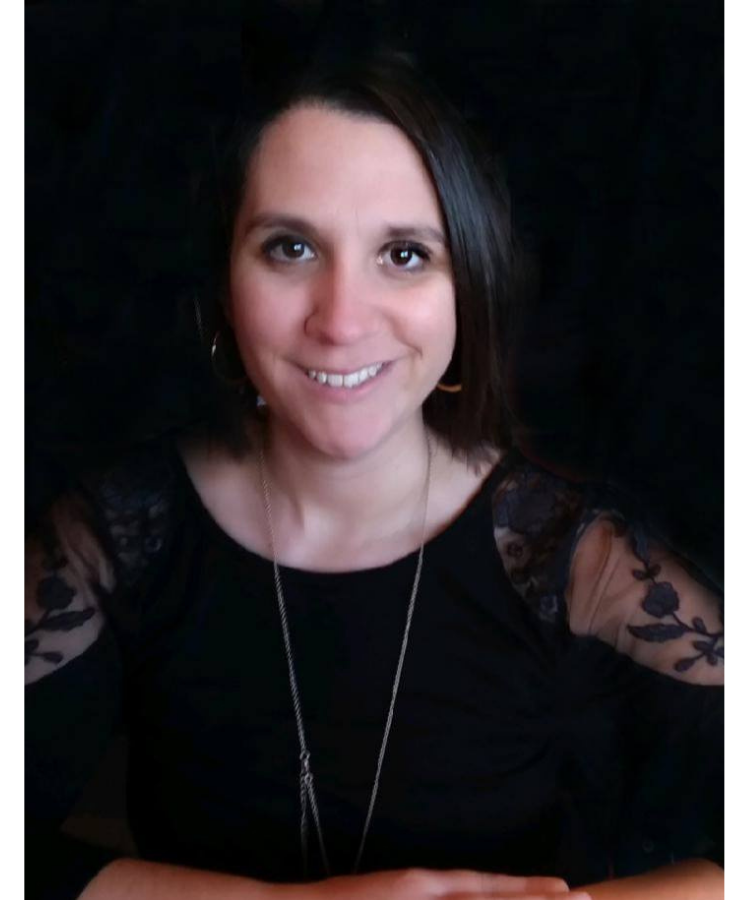 Sara has been involved with music from the time she was very young. She comes from a family of musicians, so music has been a major part of her life. Sara has had numerous experiences working in both a classroom setting and private teaching.
Along with her teaching experience, she has performed professionally in a variety of venues.
Sara obtained her Bachelor's degree from Olivet Nazarene University. She loves playing piano and singing, and enjoys sharing her passion for music with her students. Sara's students have participated in festivals, music contests, recitals, and other various performance events. She uses her experience in classical training to give her students a well-rounded music education.
Sara is new to central Illinois and we are thrilled to have her as a wonderful addition to our Studio Connect private lesson division this fall (2021).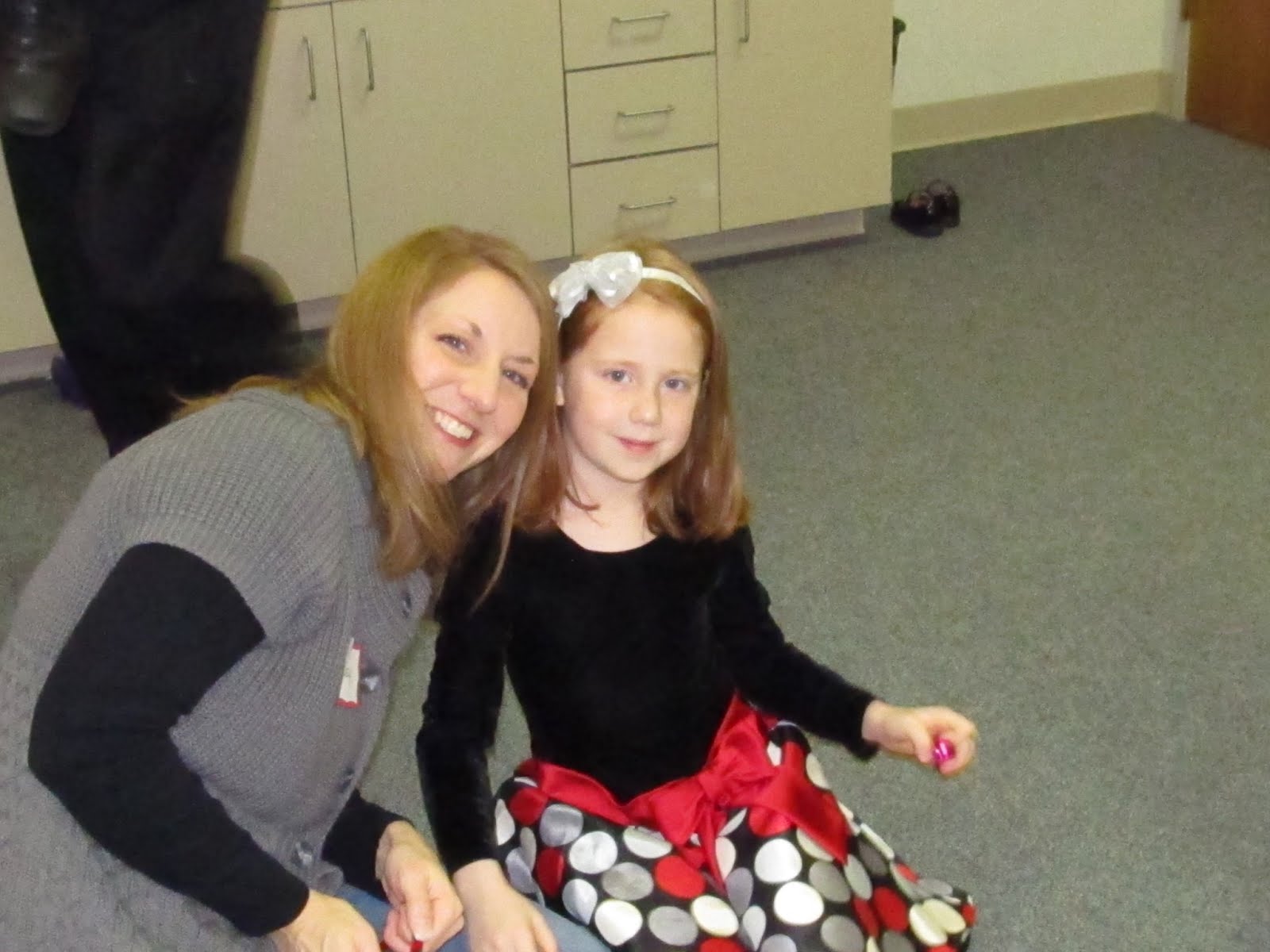 "Why I taught Kindermusik...
I taught Kindermusik because my experience as a Kindermusik mom transformed the way in which I parent. Kindermusik gave me amazing, simple and POWERFUL tools to incorporate music, singing, movement and language into my family's everyday life. I wanted to share those gifts with the families I served. I believe the classroom experience and at-home activities enhance the parent-child relationship. I believe that the Kindermusik philosophy and the developmental information offered to parents every week helps make good parenting even better. And I believe that ALL children respond positively to music and I wanted to have a role in fostering a life- long love of music. It is my hope that in sharing the gift of music with children and their families, I helped to set a foundation for success."
Shelley has a degree in Business Administration from Illinois Wesleyan University, and worked in the insurance and banking industries before choosing to stay home with her three children, Rebekkah, 17, Luke, 14, Adam, 12. and Leah 2. Shelley observed and participated in the Kindermusik classroom as a parent for six years before beginning her teaching journey for MCF in the Spring of 2010. She lives in Bloomington with her kids – now FOUR in number! – and husband Andy. Currently Shelley is serving Music Connections as Liaison between Parents and our Foundation, and represents MCF at Community Events as well.
KINDERMUSIK EDUCATOR AT HEARTLAND HEAD START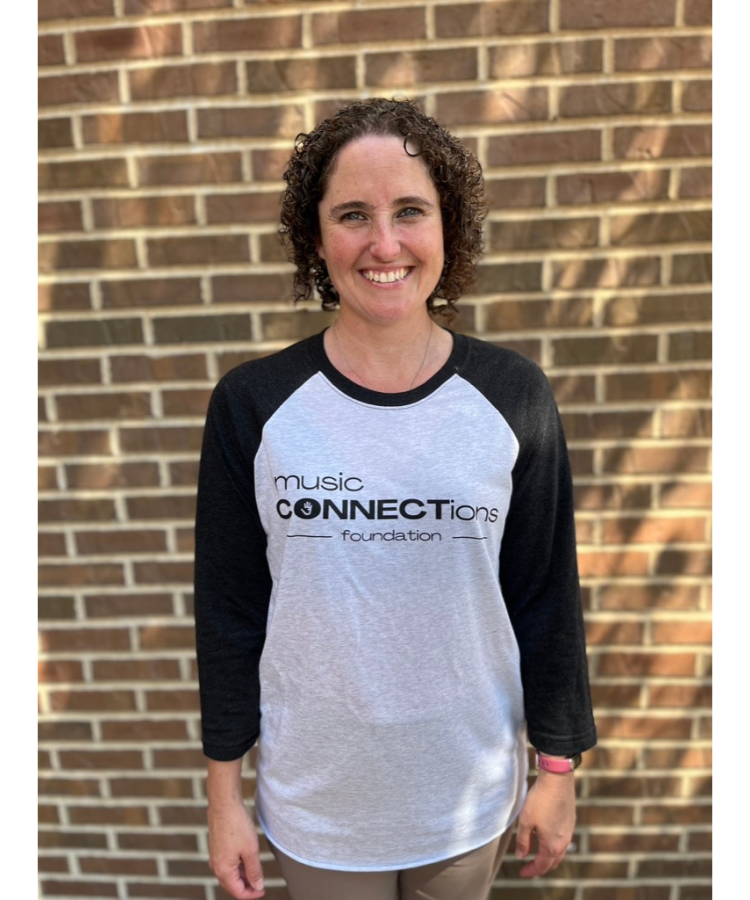 Angela Wirsing is a licensed K-12 music teacher who moved to Bloomington in 2010 from St. Paul, Minnesota where she taught and directed music in schools, churches and children's theater companies. Since moving to Central Illinois, she has music directed shows for Corn Stock Theatre and Community Players and serves on the Board of Directors for Prairie Fire Theatre. She currently directs choirs at Trinity Lutheran Church and teaches private voice and piano lessons. Angela lives in Bloomington with her two children – Nathan, age 12 and Elizabeth, age 8. Angela began work with Music Connections Foundation as the Director of Community Choristers in the fall of 2014.
Angela received her Kindermusik license in the Spring of 2015 and began teaching Kindermusik for MCF in the fall of 2015. Angela says this: "Children have such great potential in music. Their capabilities combined with freedom and creativity in expressing ideas and emotions makes them a joy with whom to work! I look forward to sharing my love of music with both Choristers kids and our Kindermusik families."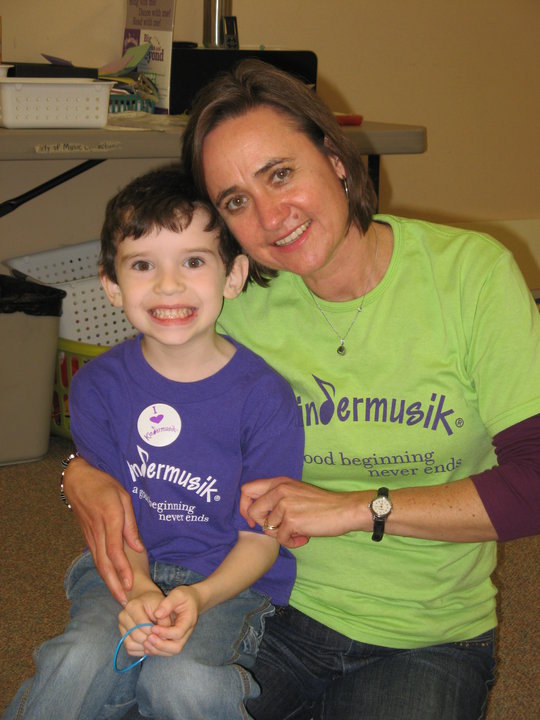 "Mrs. Bruno," as she is known to Kindermusik families, began Kindermusik classes as mom to sons Adam and Alexander when they were around 18 months old; now 25 and 23, both boys are still actively involved in music (as well as in sports) to this day. "I believe that a love of music is one of the greatest gifts we can give a child. Kindermusik enables me to do this and so much more for children and their parents. What we do each week in class is so much more than just music. During my time at Music Connections Foundation, I got to help parents understand about the development of their child – whether its social, emotional, cognitive or physical – the list is endless! The benefits are SO important, and take place in an environment that is not based on performance or measuring up to someone else. Whether the children who I teach every day continue with music or not, I believe that the many things they learn in class will benefit them for the rest of their lives. There is not a program around that does so much to help with the development of young children, is as well researched, and is, at the same time, FUN!"
With a background in Finance and Foreign Language (from the University of Ontario), and a lifelong love of music (as a choir singer and accordion player!) Barbara became a licensed Kindermusik educator in 2004 and recently retired after teaching over 100 of MCF's children each week! She sings the Kindermusik praises whereever she goes, and feels blessed to LOVE what she does each day of the week! Barbara was integral in leading the Foundation initiative class for Hispanic families at Western Avenue Community Center.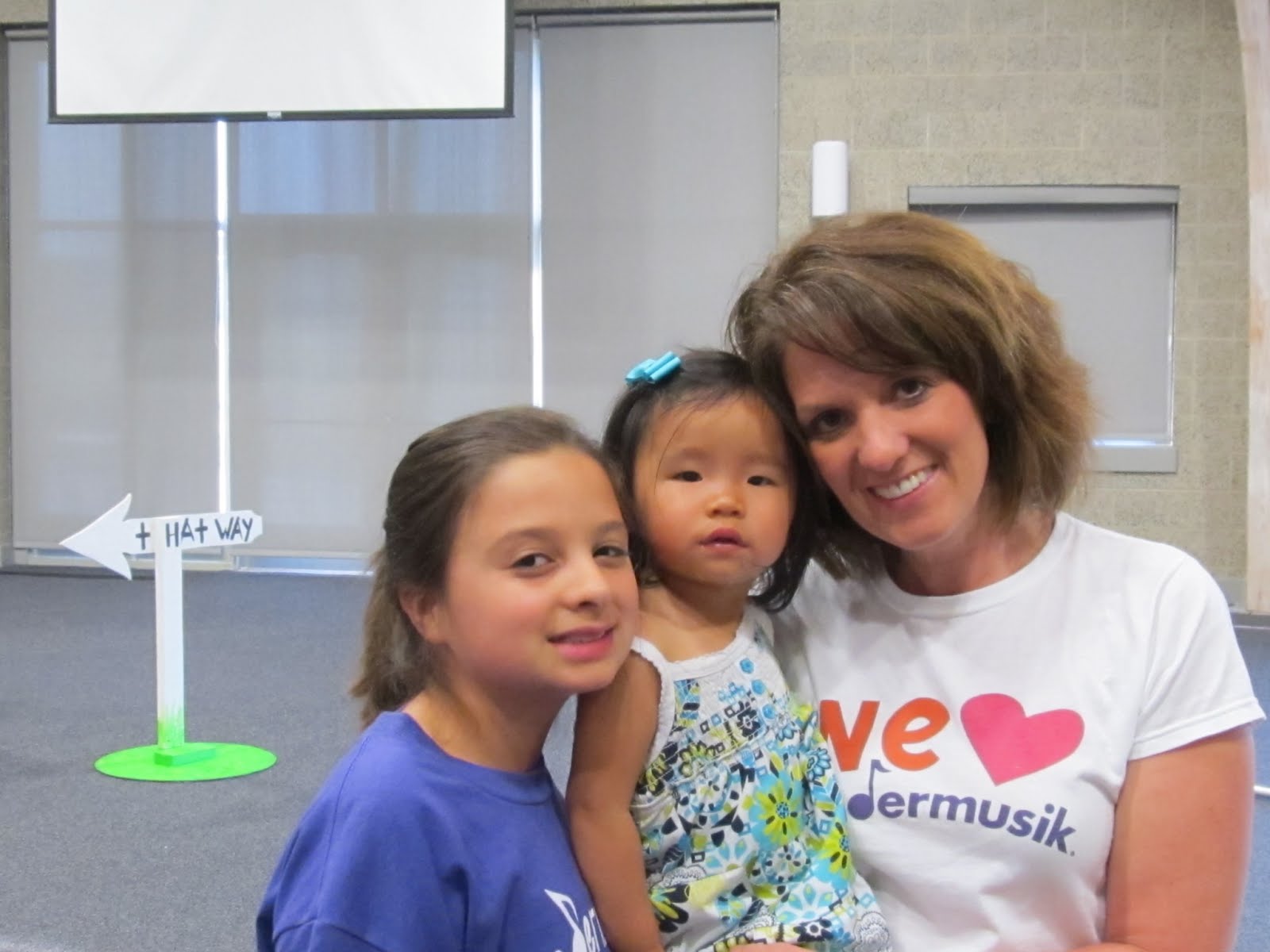 Dee lives in Bloomington with her husband, John, and five precious children - Kayley, Sawyer, Micah, Milly & Owen – all Kindermusik graduates! She has a B.A. in Education from Judson College and has spent time teaching in Wisconsin and Illinois. She completed the Kindermusik Educator training in 1999 in Indianapolis after which she began teaching for Music Connections.
About Kindermusik, Dee says: "I believe every child should have the opportunity to experience the best program available to children in our community. I know and am thankful for how it has benefitted the development of my own children and how it has encouraged us to have a musical home. It is a well written curriculum with purpose, organization, and developmentally appropriate activities, songs, and games. I love music and teaching Kindermusik and wanted to share it with everyone. Finally, the connections that are made from being a part of the Kindermusik community (teacher to teacher, parent to parent, teacher to parent, teacher to child, parent to child....) are immeasurably valuable now and in the future." Dee currently is in charge of the creative content for and implementation of our "Playdate" program.