For ages 0 to 2 years with adult
Cackle Cackle Mother Goose! Have you any feathers loose? Nursery rhymes – spoken or sung – are rhythmic and tend to be short; thus, they are great in helping to foster language development. And passing on the rhymes of your childhood makes Mother Goose a fun, rich learning experience! Treasure the time of smiles & bonding in this unit rich in movement, song, instrument play & literature. Routines like Intentional Touch, Exercise, & Quiet Time become cherished rituals and provide what your little one needs to advance his physical, language, cognitive, social and emotional development as well!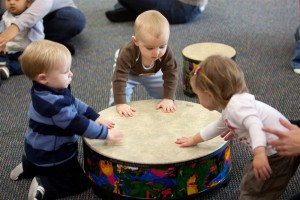 Times:
JUNE 4-27: Mondays 9:15 AM, Tuesdays 11:30 AM or 5:15 PM
JULY 10-AUG 3: Mondays 9:15 AM, Tuesdays 11:30 AM, or Wednesdays 5:15 PM
Type: Parent/child interactive 45-minute class
Total Fees: $85 Total fees including materials

Receive $5 off your balance when you register before April 30!
June and July Sessions contain unique (different) content. Get both sessions for $150!