Ages 3 1/2 – 5 years
"On the Road" was inspired by children's love of family adventures and the lifelong memories they build. In our HOMEMADE cars, we'll recreate the delight of family travels: singing rounds in the car, making up songs, playing "I Spy." We'll cozy up by the campfire to roast s'mores, tell stories, & discover constellations; "Rainy day" fun will include puzzles, card games and crafts, and all the while we'll fine-tune listening, movement, singing & pretend play.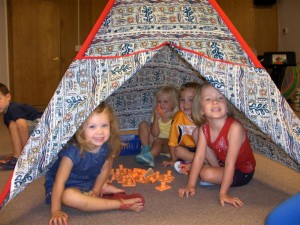 JUNE 6-28: weekly
Tuesdays: 10:15-11:15 AM or 6:15-7:15 PM
Type: Children alone
Total Fees: $92 Including materials, crafts, snacks
Deposit: $35 (non-refundable; due with registration)
Receive $5 off your balance when you register before April 30!

Your Materials include:
Home CD
Instrument
Backpack
Literature book