EXTENDING OUR MUSIC CONNECTIONS MISSION
a team of Certified Kindermusik Educators from all over the USA will travel to Hawassa, Ethiopia to continue their work with ESM Africa and its 3 orphanages there. Grace and Katie Henderson from Bloomington, IL, will represent Music Connections Foundation on the team. One goal is to work with the orphanage "Mamas" (staff) to help them understand how incorporating active music-making throughout their days will not only make positive behavior management easier, but also vastly improve quality of life and foster optimal cognitive, physical, language and social-emotional development.
Here are some of the "mamas" dancing & singing with us on our last trip to Ethiopia in May, 2018.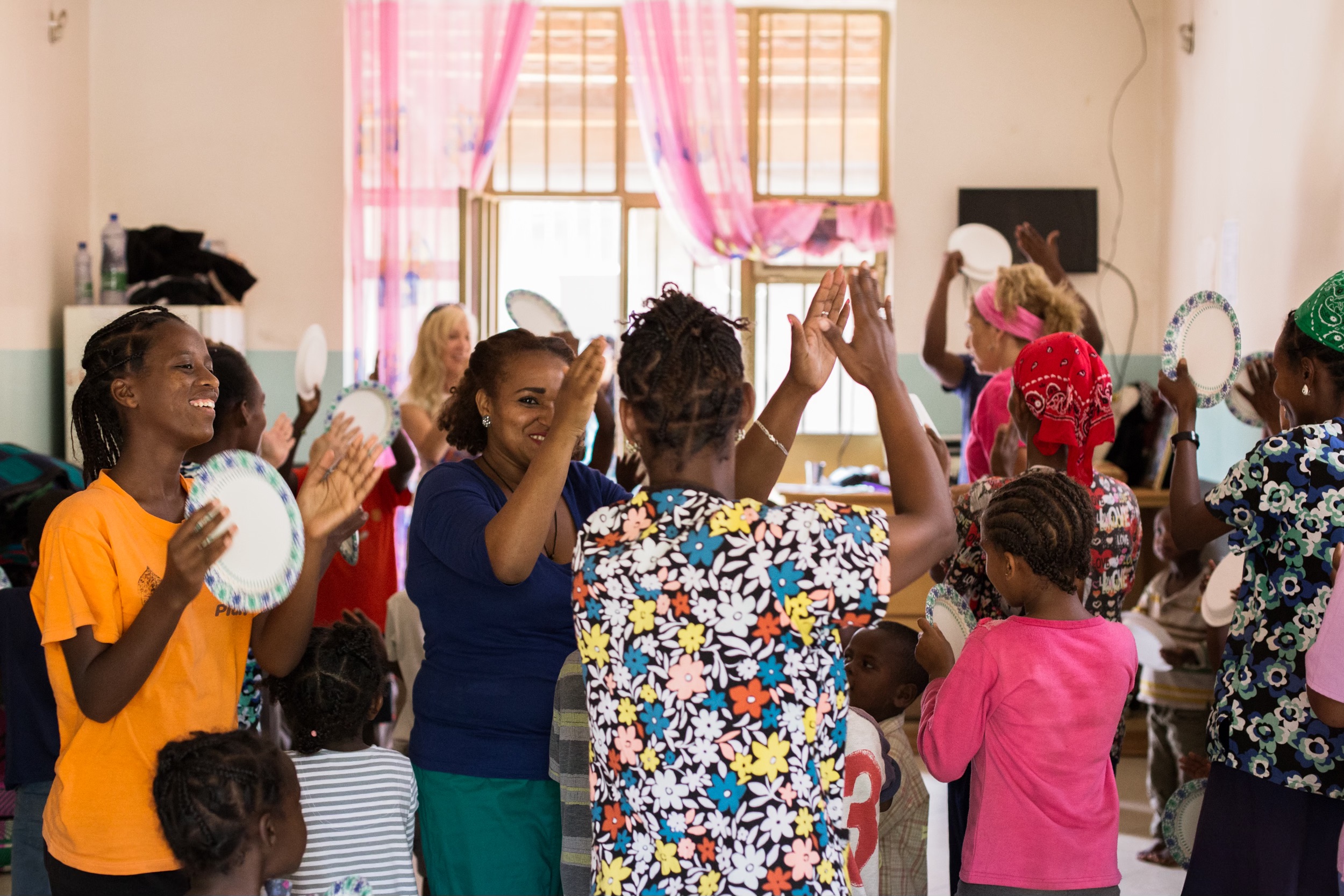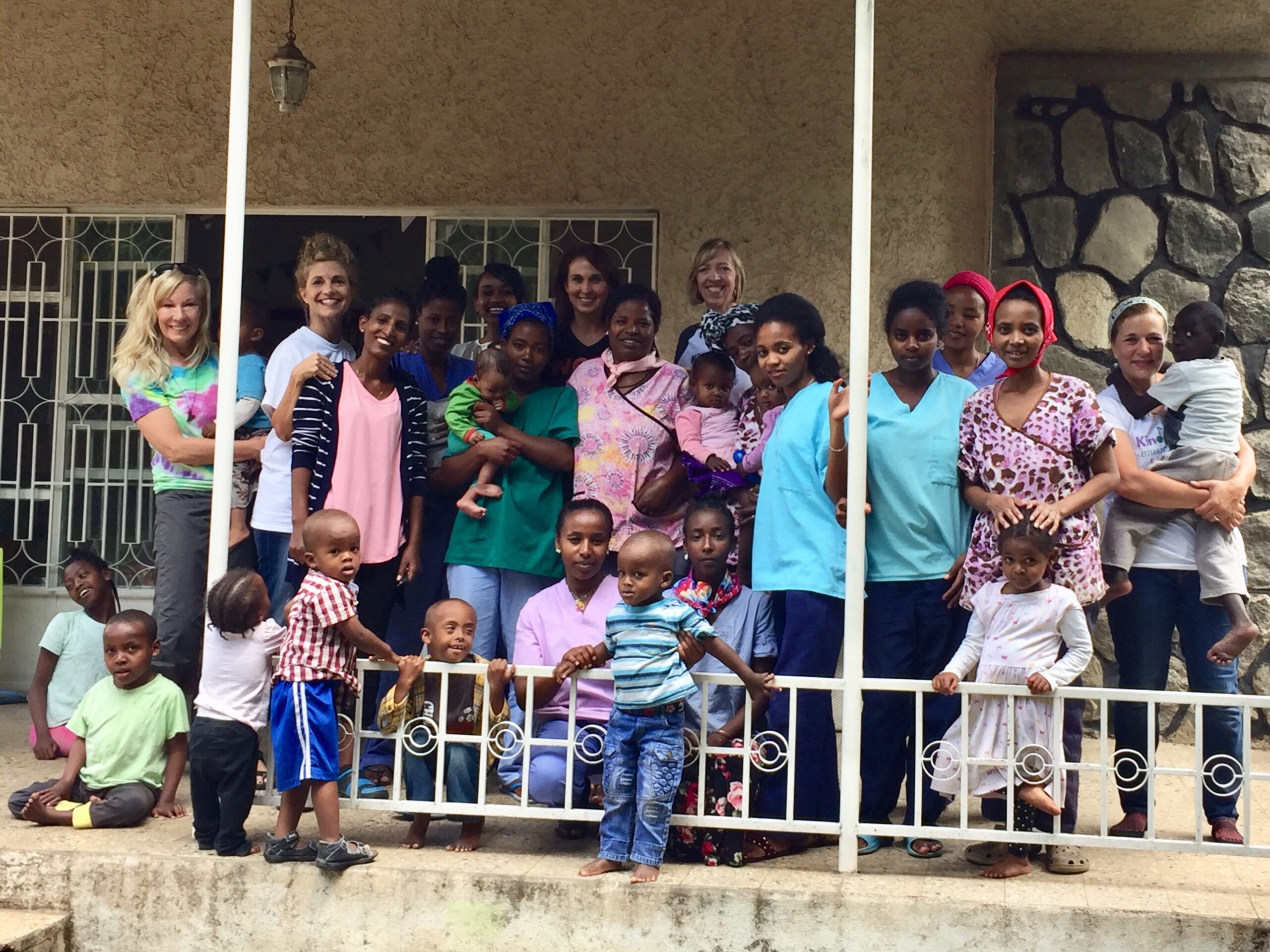 2018 Team with the "mamas"!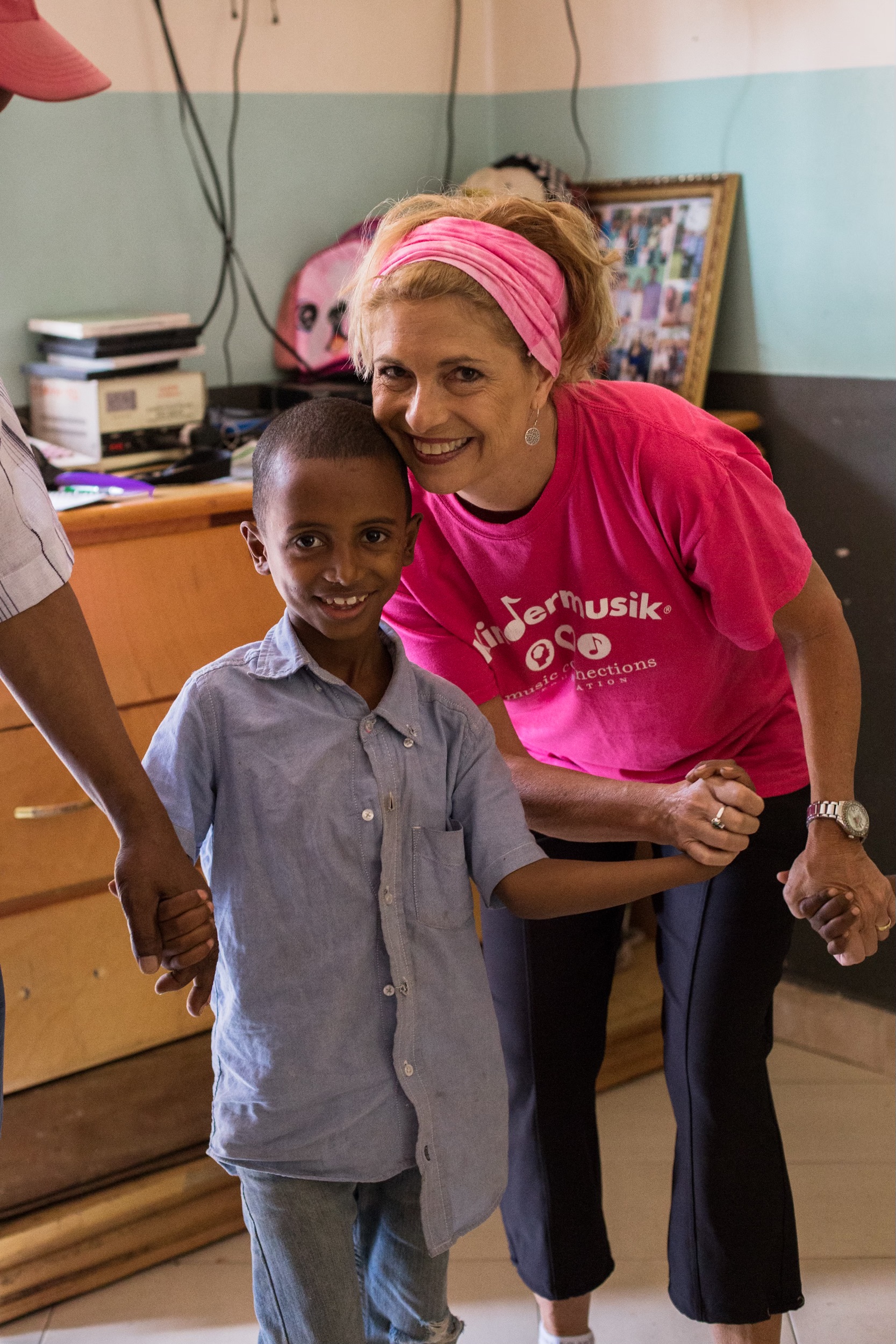 ABOUT EBENEZER SHEPHERDING MINISTRIES OF AFRICA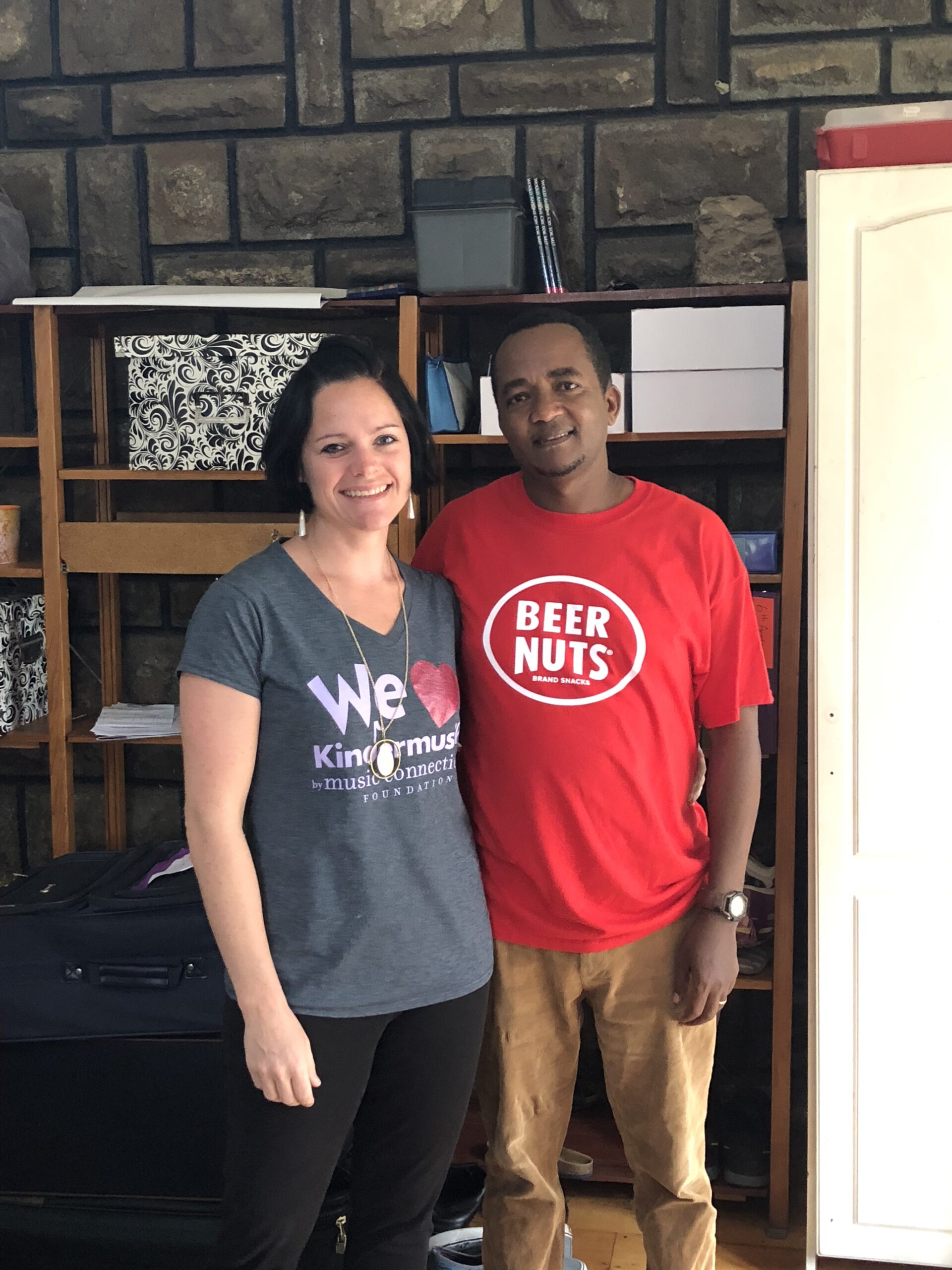 Argaw & Rachel Ayele in the t-shirts we sent them from our Central Illinois Community! An MCF shirt & a Beer Nuts shirt!
"Argaw and Rachel Ayele met at Calvary Chapel Bible College Europe (Hungary) in 2005. Argaw was born and raised in the southern Ethiopia. Rachel was born and raised in Indiana. After a short time, they made plans to be married and to move to Ethiopia as missionaries. Both had the desire to share Jesus' love by helping those in need–especially children. In 2006, they began the multi-year process of becoming licensed as a local non government organization (NGO) under the name Ebenezer Supporting and Development Association (ESDA). In 2014, Ebenezer Shepherding Ministries of Africa, Inc. (ESMA/ESMAfrica) was approved to operate as a US 501c3 non-profit organization." Today ESM Africa has three orphanages and over 150 children that are in their care.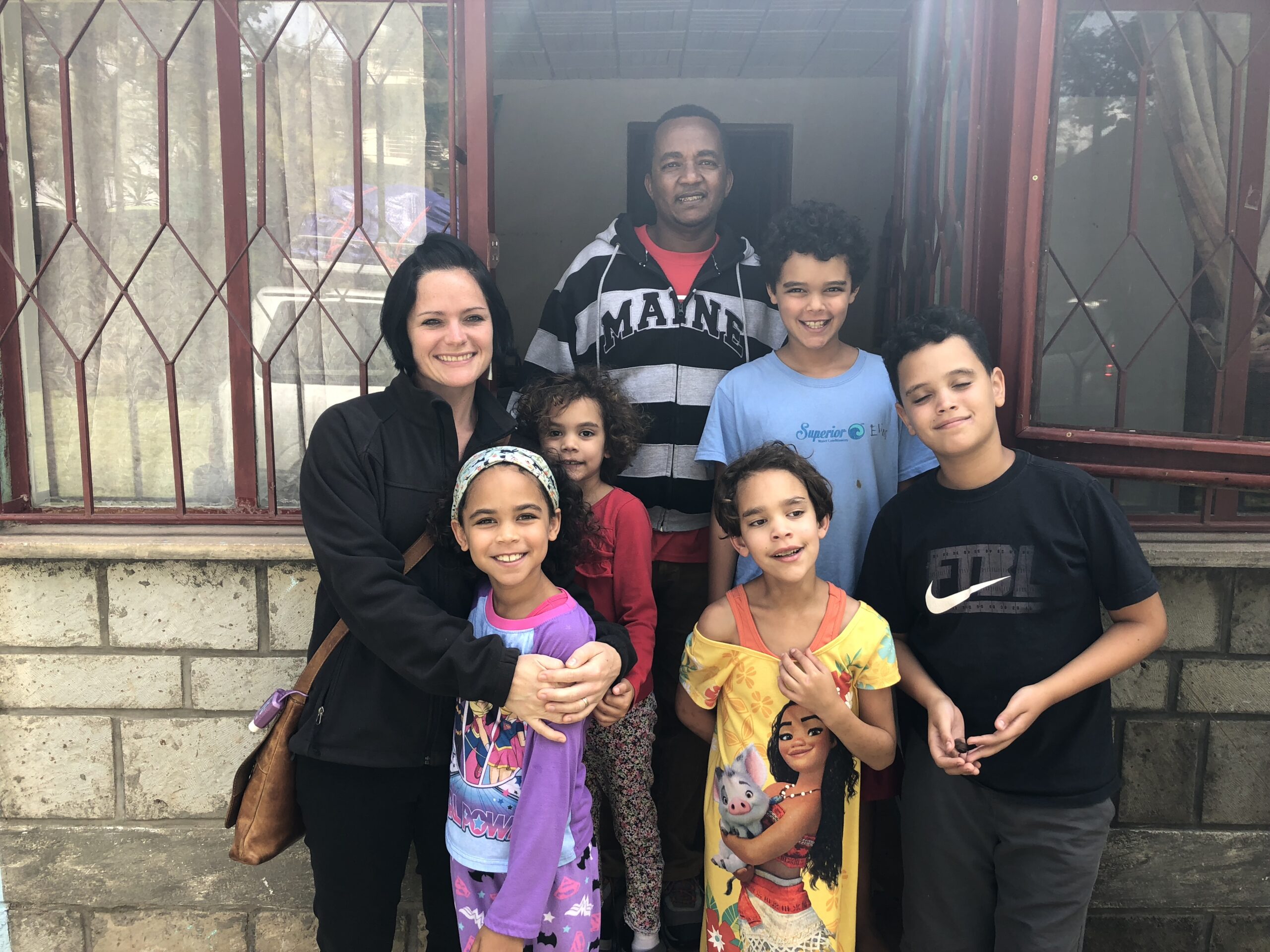 THURSDAY, MAY 26TH RECITAL FUNDRAISER
On Thursday, May 26th, Grace Henderson will host a voice recital with Mark Fearey on piano as a fundraiser for their 2022 trip to Ethiopia. All are invited to attend for an evening of beautiful music by wonderful pianist Mark Fearey, Grace and some of her friends & students. There are no tickets for this recital, but I would gratefully accept your donation if you feel led to give.
1301 N Linden Street Normal, IL 61761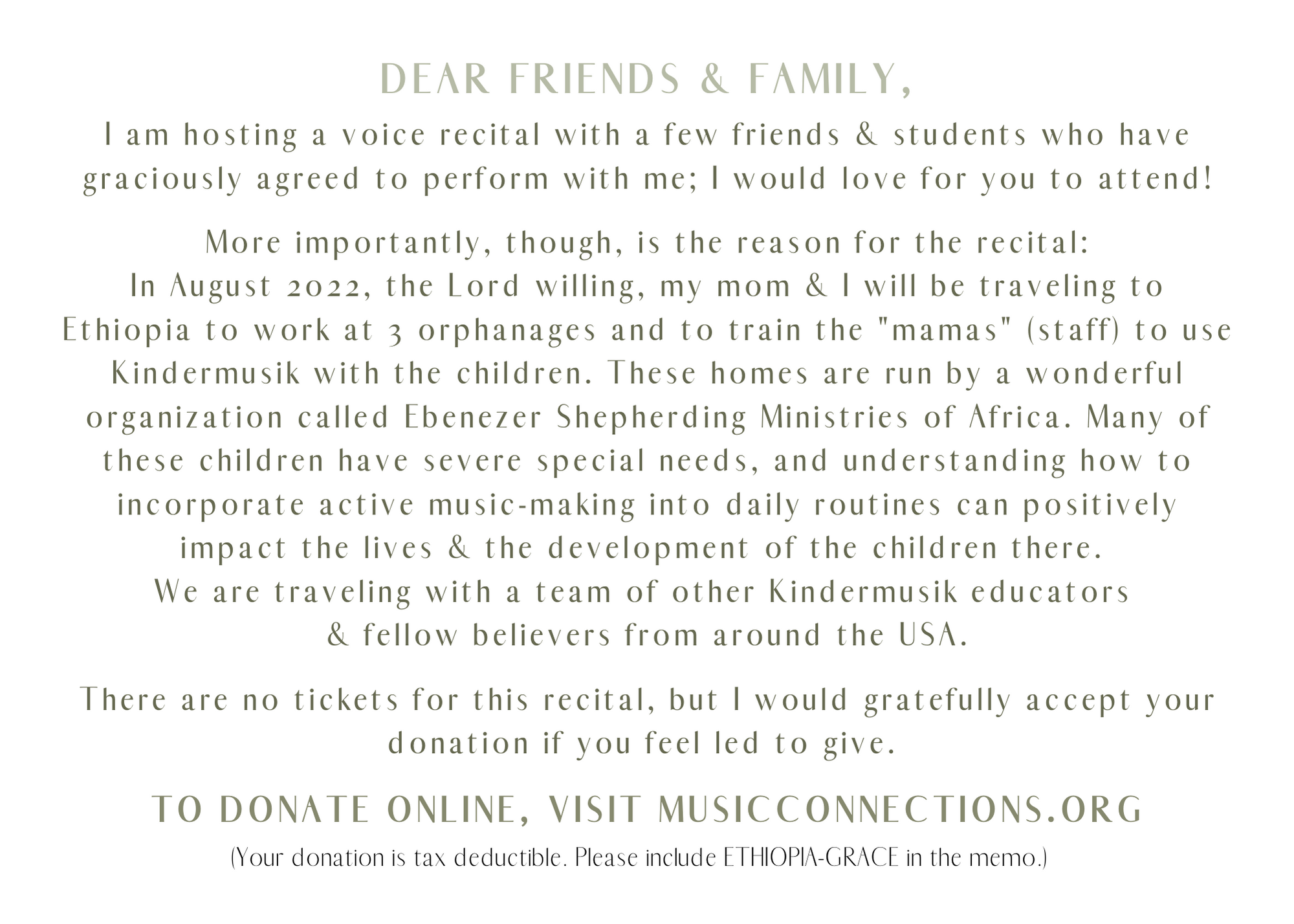 Donations can be made by Venmo to @Music-Connections. Your donation to our 501-c3 Foundation is tax-deductible. Please include a note such as "Ethiopia - Grace" in the memo of your payment.
If you would prefer to send a donation via check, please make your check payable to "Music Connections Foundation" with "Ethiopia - Grace" in the memo.
QUESTIONS? CONTACT GRACE HENDERSON - GRACEHENDO97@GMAIL.COM OR 309-310-3120