by Beverly Smith, Kindermusik mom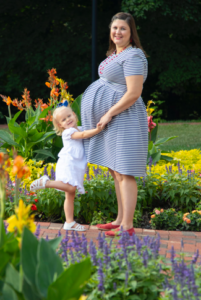 Soon my world and my daughter's will change forever. We are welcoming baby number 2 (gender unknown) into the world later this month. My daughter is two and half and embracing independence, while still needing "me" for reassurance and encouragement. The transition will affect her whole tiny world! She spends all day with me as my little shadow and we have a blast just us two! We stay busy and the whole "stay-at-home mom" title doesn't apply to me because we are literally never at home! We go to the museum, library, zoo, park, play dates, Kindermusik, shopping, etc. together all the time. So when a newborn is introduced in the mix and staying at home more will be a necessity I am sure Isabelle and I both will have some growing pains.
In order to make life a little more normal and keep some routine in her life I have arranged for her Grammy to take her to Kindermusik weekly throughout all of the transition. This will give her time to do something special without the baby and get out of the house for a little while. In Kindermusik they have taught us that routine and ritual is something that helps your child feel safe and secure, and because she SO loves Kindermusik, I think keeping this routine in place will help in our transition. I am hoping after the initial transition I can switch places with Grammy and make Kindermusik "our" special time together. I love going to class with her and I know she would enjoy this mommy only time.
I know life will be hard for me with two kids, but I am going to try to be intentional about making time for her, even if it's 15 minutes here and there using the online Kindermusik materials. It will give us time to do enjoy Kindermusik at home, since I can't be there in class with her. It's great that they provide extensive home materials so that, just by listening to albums or doing activity pages, we can make Kindermusik a "7 day a week" experience at home!