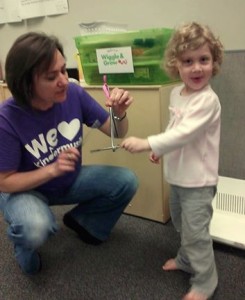 Hi everyone!
My name is Olya. I came to Normal from Vladimir, Russia 8 years ago to get my Master's degree in Communications. Then I got married and had a daughter Leah. The marriage did not work out. When Leah was almost 6 months old I had to flee from the place where we resided due to my ex-husband's alcohol abuse. For better for worse neither Leah nor I are in contact with him anymore. Our life has changed greatly. I am working towards my doctoral degree in Linguistics at ISU, Leah is going to Rogy's Learning Place, and attends her Kindermusik classes, which she immensely enjoys. The Kindermusik program has been a real blessing for Leah because she loved music since the time she was still a "belly dweller". Now, Leah is already in a group (Laugh & Learn) that has their music sessions without parents. I love peeking in at watch her sing and dance with other children. I can tell she does that with enthusiasm and really enjoys herself.
In the time of need, a friend of our family helped Leah and me to get a scholarship from Music Connections' Kindermusik program. It was and still is a real blessing for us because the program opened new horizons for Leah's development, and helped me to meet quite a few wonderful people. Leah has been in the program since she was one. She is three now and I can tell that she is getting a lot from her Kindermusik classes. She really likes singing, and she sings better and better every day. We sing pretty much everywhere, at home, in the car, on the trail, on the way to the park, and a lot of songs we sing Leah has learned in her Kindermusik classes. This summer Leah attended Kindermusik summer camp and it was also a wonderful experience, and we are planning on doing it again next summer.
I should admit that being a single parent, a student, and a Teaching Assistant, given that my Mom and Grandma, are in Russia, is not easy. And there are times when I feel overwhelmed with life. But when I see Leah grow, I know that all of my hard work has its results. Also it is so great to know that there are people who care and support you as a parent, as a person, as a mother; they care about your child and her development. And part of those people are from Kindermusik program. Kindermusik teachers have big loving hearts. They can always find the right words of wisdom and encouragement for both parents and children. They work hard to provide a truly amazing learning environment. They are kind and welcoming. Kindermusik classes are always a ray of sunshine during my busy week. I am so very grateful to the program for providing Leah with the opportunity to grow and develop with music.
Thank you very much!
Love,
Olya and Leah.