by Katie Henderson, Founder/Director of Music Connections Foundation
"It is what it is" - a phrase often heard in America. Most times, what we hear behind those words is a spirit of exasperation, frustration, or even resentment toward whatever circumstances have brought us to where we are. The words seem to be a routine attempt to accept "what is" but the emotion that comes with the words does not reflect acceptance at all.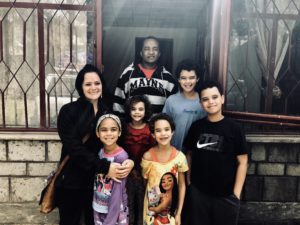 A powerful witness during my time Ethiopia was meeting people who truly embody a resolve to live in the moment of "it is what it is." Our hosts, Rachel and Argaw, live in a beautiful compound just steps from the lakeshore with their 5 beautiful children.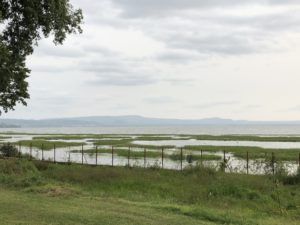 Despite being equipped with modern amenities, it is common for the electricity to go out without notice. One of our first mornings, we woke to no electricity - no hot water for eight women to shower, no stove to prepare breakfast or the rich Ethiopian coffee, no light for necessary getting ready activities such as putting in contact lenses. We all came out of our various rooms buzzing with questions. "What's wrong? Did we do something to blow the electricity? Is there a breaker switch to flip? How long will it be out?" Rachel was calm, despite the need to prepare breakfast for us before we headed to the children's homes for the morning. "Nope - we randomly and often lose electricity." There was no angst in her voice, no panic. She just rolled with "it" being "what it was."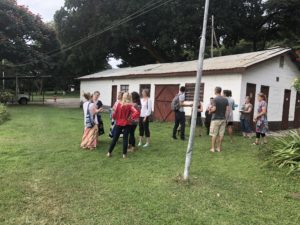 On our second day there, Sunday, we went to church twice; in the morning we were at Ebenezer Grace, one of the children's homes, where we got to hear God's word powerfully spoken in Amharic and share in songs together. One special "in the moment" time was the spontaneous offering from Amanuel,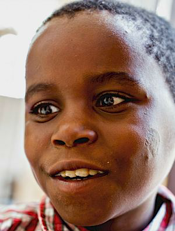 a little blind boy, who wanted to get up and sing for us. Argaw explained that Amanuel wanted to be a worship leader some day! In the afternoon we were to attend a more "American" service for various adults and their families, most of whom were missionaries serving in Ethiopia. Rachel was to lead Worship Music and spearheaded much of the organization for the service. Before doing so, she had her own five kids to get dressed and "out the door," music to rehearse, 8 houseguests (us) to feed, and on and on, but she went about it all with apparent ease. When we finally assembled outside to head to the church, scheduled to start in about 20 minutes and a couple miles away, they realized that we hadn't considered transport for so many. They were calmly problem-solving – should Argaw make two trips, should some of us start to walk, etc. Argaw said "Just pile in! We'll do this Ethiopian style." As our analytical minds were questioning the likelihood of getting 15 passengers (plus a guitar) into one SUV, the kids begin to pile in, and the result was a bumpy, fun and "in the moment" ride to church.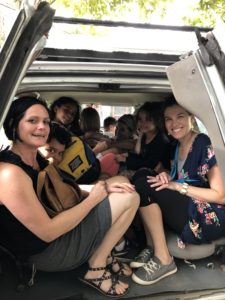 On another occasion, we returned to the compound with Rachel around dinnertime to find a large circle of men in the compound yard. "Apparently my husband has invited some friends over," she chuckled. I couldn't help but think what my reaction would be in these circumstances. At the very least, I would have "kicked it into high gear" and rushed to the kitchen or to my husband to determine what needed to be done. Rachel's demeanor didn't change as her husband approached to welcome us to an impromptu celebration. He explained that progress had been made that day by the government to recognize and support the Sidamo tribe which had long been oppressed by the former government. We watched as over 100 men, many of them professors and students, and a few women gathered throughout the evening to celebrate this momentous occasion.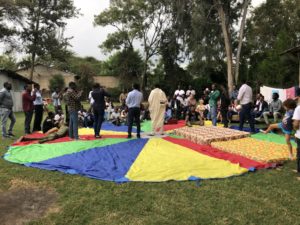 The living room couches were brought out to the lawn, and sticks were laid for a fire to roast lamb, all with a spirit of joy and peace. The crowd listened intently to impromptu speeches. Even when one of our hosts' children did somersaults in front of one of the speakers, no one looked or flinched or judged. It "was what it was" and it was beautiful. Despite his duties as host, Argaw took the time to step aside with his oldest son and, with his arm around him, explained the historical significance of what was going on.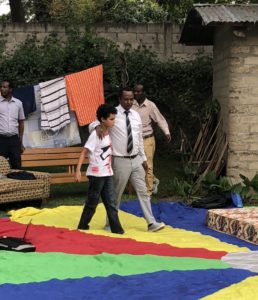 We watched and photographed off to the side but were quickly invited to join the assembly - even given front row seats on the couches. We were humored as some men positioned themselves in front of us and took selfies with the conspicuous American women. And still, no one bemoaned or judged the selfie-taking - even though it took place right in front of the speakers. The crowd was completely focused on the speakers, sitting quietly, looking and listening, hands to chins, heads nodding in agreement and occasionally applauding.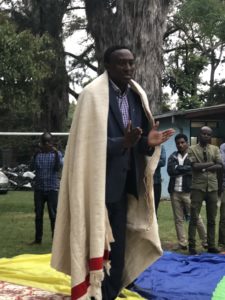 Once excused after nearly two hours, we decided to go to a local restaurant to review the day and all we had experienced. I watched as Rachel asked her husband if he minded if she went along with the girls (keep in mind that the lamb was yet to be roasted and the feast prepared). Argaw's calm and sincere, "Sure. Have fun," even after she asked him to keep an eye on the five kids, was a perfect example of living in "it is what it is". And it was beautiful.
To say this was a stark contrast to our "modus operandi" is an understatement. Even though we went to Ethiopia with expectations to be flexible, to see difficult conditions, and to embrace what we experienced, I realized that our lifestyle has us programmed to react and respond in ways that prevent us from being fully in the present moment. As the days flew by, we fell more and more into the relaxed, go-with-the-flow state of being. And upon my return to the busyness of life in America, I resolve to think of my time in Ethiopia, and of Rachel and Argaw, and their complete acceptance of and joy in "it is what it is."