by Beverly Smith, Kindermusik mom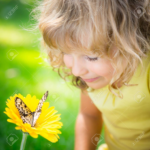 Every year as the end of school year approaches, the trees blossom and the days grow longer. I start to anticipate summer. I start listening for signs. The birds start returning with their daily music, creating a morning symphony to begin the day right. I hear the laughter of children playing outside and the sound of basketballs as they hit the pavement. I hear the mowers, leaf blowers, and water sprinklers. There's always something to hear when the quiet of winter disappears and spring is on its way.
My daughter, although having experienced a few summers by now at the age of two and a half, is newly discovering these seasonal changes and the sounds of summer approaching. She's figured out that when mom says it's warm, it's okay to go outside and play. As I watch her playing, the excitement of the discovering all the sounds is heartwarming. She says, "Mom, I hear the birdies!" or "What's that sound, Mama?" or "Mom, I hear a motorcycle!"
I feel like her time in Kindermusik has made a great impact on how she interacts with the world around her. She's been taught over the last two years how to listen, explore, discover, and observe. Every week in class she's learned to hone her listening skills and decipher new sounds. She knows to rub her ears, listen, and to ask "What is that?" The teacher then follows up with a picture, name, and sometimes even an object to connect with the sound (puppet, stuffed animal, toy, etc.). This is how connections are made and how a child learns to process sounds in the world. Just like in class, she hears the sounds outside and looks for an object to which she can connect the sound and asks for its name. Further, I have been enlightened and shown ways, as a parent, how best to fuel this discovery process: not just always to "tell her" things but to observe her interests, comment on them, and to ask questions to expand her own discovery; (this is a process called scaffolding they help us with in class).
Kindermusik is so much more than music! Each class helps children, and parents, make connections to each other, and to the world around them. It gives us the tools to make us better students and to better understand how sounds connect us to the world outside.