by Beverly Smith, Kindermusik mom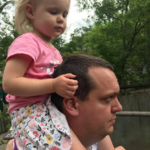 One of my favorite things that has changed in my marriage since having a child is seeing the gentle, playful side of my husband. The relationship and bond he shares with our daughter is just as important as the one I share with her. This is why I feel it's important for me to take a step back and let them connect daily.
My husband is always amazed to see her progress and the blooming of her personality. He looks at his daughter with such pride. Every day he loves to hear the things she does at home while he is at work, including pictures of her being cute or silly throughout the day. He always wants to hear what we are learning in Kindermusik and we include him in some of the activities at home. He can't make the scheduled class, so we bring the class to him.
The activities we've done together have made us laugh and got us moving as a family. I've shown him how we drove a car in class using a hula hoop or a laundry basket. We've danced and sang to many Kindermusik songs. We've played with scarves, shakers, drums, and even used some of the homemade resources I saw used in class. She'll run to him when he comes home to show her stamp from class and talk about the things she did and saw that day. All these special moments were created because of our experience in class, and doing them at home reinforces the learning goals Kindermusik has for the kiddos in class.
I love seeing fathers in class interacting with their little ones. It shows that dads can be just as nurturing and active in a child's life as a mother. Both relationships should be supported and nurtured. If your husband is like mine and can't make it to class, include him by showing him activities you learned and sharing the materials for class online. The home materials make Kindermusik a 24/7 activity that you can share throughout your week, and do as a family! And in today's fast-paced world, taking time together is something you'll never regret!.