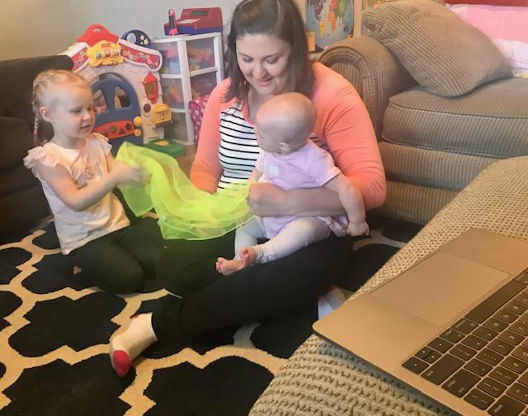 by Beverly Smith, Kindermusik mom
Over the past four months our lives have drastically changed. Simple things we took for granted before are now things we wish we could do. I'd love to have a playdate with all my daughters' friends, take my kids to play at the park, have a date night with my husband, take my kids to an in-person Kindermusik class, or go to a movie. All these activities make my children happy and make me happy too, but with an eight month old whose immune system hasn't matured, government mandate, and elderly grandparents to keep healthy, many of these activities just aren't possible. We still attend Kindermusik virtually, which we've really loved! Seeing as I'm more of a positive thinker, I'm usually able to turn off the "cant's" and focus more on the opportunities I have right now.
What are the positives I see from the current situation we're all facing? I have this list on repeat in my mind daily, that's how I keep my head up and my smile on. These are what I see as opportunities:
1. I get more time with my children, one-on-one uninterrupted, purely simple time. We get to attend as much Kindermusik as we want (their virtual classes are "UNLIMITED" with no extra fees and a variety of times from which to choose) and I don't have to juggle or worry about getting out the door or changes to my schedule.
2. I get to take time to think. Life is quieter, less busy. I've had a lot of time to soul search and focus on what it is that makes me happy, who I am as a mom, and who I am as a person. I've discovered so much and made so many life changes that I hope carry into the "normal" busy world in the future.
3. I get to see my husband throughout the work day as he works from home and we get to eat lunch all together as a family!
4. I've gotten to know my neighbors better.
5. I've had time to find some hobbies, like gardening, yoga, cooking new things, and yard work.
6. I am also learning a new language WITH my three year old!
All these things make me feel like I'm giving my children the childhood I had, before things got busy. A childhood that was spent outside or involving something which was very much hands on, together as a family. It's forced me to create activities with meaning and with it being a long time frame, ideas become more creative as we go along. I am so glad to have Kindermusik as the ONE constant in all this and for there to be a new experience from it as well! My daughter is learning Spanish in Music Connections' brand new Bilingual Birdies program via Zoom. We participate together, and she absolutely loves it! We both get excited to learn the new words and to learn a song in a different language! It has given our days purpose and has given us both some new goals to work toward.
The Kindermusik family has been such an important part of my family. They're always willing to work with us and give my daughter opportunities. She didn't even qualify for the age of the Bilingual Birdies class, meant for 4-7 year olds, but they were willing to let her attend as long as I was there to help. It is amazing to have a program that will help make our days brighter and be flexible! What a true blessing we have been given!
Although these days are different and hard, I believe there's a silver lining. I believe a lot of good is coming from slowing down and learning to love the ones closest to you. We're living in the moment and devouring all the time we can together in new, exciting ways!