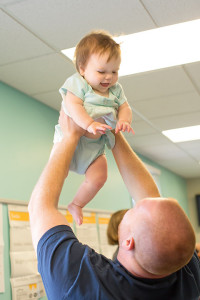 Okay, I admit it, I never went to Kindermusik. Well, never is a strong word. I would go maybe once, twice a year. Sure, at home, I sang ALL the songs, read the stories, all of that. But rarely did I grace the doorstep of that magical world of a Kindermusik classroom….
As I mentioned in an earlier post, it was my husband Clay who first found out about Kindermusik and wanted to enroll our daughter. It was actually Clay who placed the call to Katie Henderson to ask about the classes and when he and our daughter Brenna could get started. As soon as she turned 18 months old, they set out, just the two of them, to attend class in Katie's basement. He wasn't the only dad; Clay had the pleasure of attending those early classes with Katie's husband Scott and their son Benjamin. But being the Kindermusik dad certainly was not the norm.
You see, from the moment Clay knew he was going to be a father, he knew he wanted to be involved in something special with his children. Something that was just "their thing." A medical condition delayed his growth and for a boy, he was on the small side. Sports weren't really in the cards for him, but music was something that he could do. So while many of his peers were learning how to swing a bat or execute the perfect spiral football throw, Clay was developing his love of music. When Brenna and then later our daughter Kiera, were born, Clay knew that Kindermusik was something he could do and share with both of them. That special, intentional, one on one time Kindermusik created for Clay and his girls was something that could not be duplicated by any other early childhood class, sport, or activity.
Now I know what you are thinking, "But my child's dad isn't into music like your husband". "He doesn't really sing, let alone want to dance in front of people!" "He's afraid of looking silly!" Sure, Clay walked in the door that first day of class, already loving music. But, here is the secret. It's not about the music. Well, that isn't true, it is about the music, but it ISN'T about being musical! Going to a Kindermusik class is about being present with your children; to have those moments, eye to eye, hand in hand, just you and them. You don't have to know how to dance or sing, you just have to be willing to open your heart and let the experience take you.
Be silly. Be Brave. Dance. Sing. Don't worry Dad, the only one watching is your child.