Annual Children's Operetta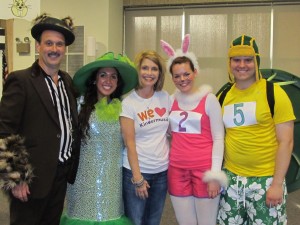 Music Connections knows that, where music is concerned, "live" is best, and we desire to bring quality musical experiences to families in the Bloomington-Normal area. Music Connections sponsors a special performance of Prairie Fire Theatre's annual Children's Operetta each year. Rarely is there an opportunity for very young children to be a part of such high-quality live theatre in an environment that is kid-friendly (noise is "a-ok")! Prairie Fires' production highlights stories with a lesson/moral that is easily embraced by children of all ages, and adults will revel in standard opera repertoire sung by professional singers. Recent past performances, including scripts by local playwright Nancy Steele Brokaw, have included Tortoise and Hare's Big Race and Ugh the Duck.
Proceeds from the annual operetta go to benefit the Foundation of Music Connections in reaching families and children with special needs.